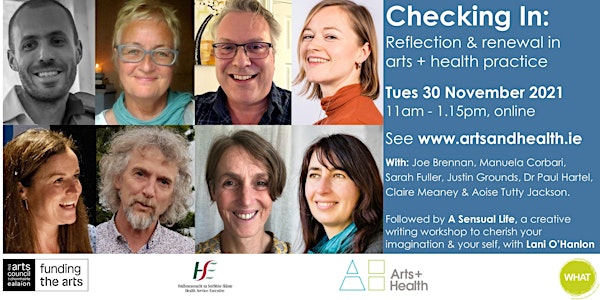 Checking In 2021: Reflection and Renewal in Arts & Health Practice
Bringing the arts & health community in Ireland together to reflect, share practice and experiences, and look forward in the Covid-19 era.
About this event
Checking In 2021 will bring the arts and health community in Ireland together to reflect, to share practice and experiences, and to look forward in the particular context of the Covid-19 era. Led by artsandhealth.ie, which is managed by Waterford Healing Arts Trust, this online event is a spin-off of the annual Arts & Health: Check Up Check In.
Checking In 2021 is funded by the Arts Council and the HSE.
Who is this event for?
Healthcare professionals, arts practitioners and anyone interested in learning more about the exciting field of arts and health.
What to expect
Checking In 2021 will feature performances by Justin Grounds, composer and violinist with Arts for Health West Cork, and leading examples of new arts and health practice for the current pandemic era, including:
Presentations will be followed by A Sensual Life at 12.15pm, a workshop open to all attendees. Writer and dance artist Lani O'Hanlon will encourage participants to cherish their imagination, sensuality and playfulness through creative writing.
Our arts and health community in Ireland is made up of extraordinary people. The past 18 months have been so tough for everyone, but our community has demonstrated great depths of resourcefulness, passion and commitment in continuing to support people who are unwell – and their healthcare staff – in new and creative ways. We are thrilled to present some beautiful examples of projects which have taken place within the constraints of the pandemic and hope that this will inspire attendees in their practice. – Claire Meaney, Director of Waterford Healing Arts Trust, which manages artsandhealth.ie
CONTRIBUTORS & PROJECTS
Aoise Tutty Jackson is an award-winning director, visual artist and facilitator working in the industry for over 12 years. She is passionately committed to using the art of storytelling to make films that deliver empowering and visceral messages. Tune in with The Happiness Ensemble is a multidisciplinary collaboration between Aoise, filmmaker Maggie Ryan, composer Liam McCabe, MusicAlive and members of 49 North Street, a creativity and wellbeing hub in Skibbereen led by Cork Mental Health Services. The project was a response to Covid-19 restrictions with a focus on sound, music and "Tuning In".
Joe Brennan is a storyteller, writer, theatre maker and facilitator. In March 2021, Joe told stories over the phone to older people living in County Wexford as part of his Tale-a-Phone Exchange project, supported by Wexford County Council. Joe will discuss his artist residency at WHAT/University Hospital Waterford in 2021 and his work delivering the creative writing strand of the Arts Ability Programme for people who experience long term mental health issues, delivered through Killagoley Training and Activation Centre (KTAC) in County Wexford.
Manuela Corbari is an artist and filmmaker. Manuela has been an associate artist with Baboró International Arts Festival for Children, and has devised two theatre plays for young audiences. Sarah Fuller is a visual artist and puppeteer and founding member of Dog and String Theatre. A Creative Associate with the Arts Council, she is also an Associate Artist with Helium Arts and on the artist panel with Kids' Own Publishing Partnership.
A Bird at My Window and Other Stories is a project by Sarah and Manuela for children and their families in hospital settings. Part of The Deepest Shade of Green, an Arts and Health programme by Saolta Arts for Galway 2020 European Capital of Culture, the project was developed through participatory engagements with young patients and their families at University Hospital Galway. It was later adapted in response to the pandemic to become a tabletop version to support family play across the five Paediatric Units of Saolta University Health Care Group and three hospitals of Children's Health Ireland.
Dr Paul Hartel is lead consultant pathologist at Sligo University Hospital and is also an accomplished visual artist. Paul serves as liaison between the Model Art Gallery in Sligo and Sligo University Hospital in The Model's ongoing residency project with visual artist Andy Parsons at SUH. For this presentation, Paul will reference his role, the challenges of the project due to COVID, how they were overcome and the future of the arts programme at SUH.
Lani O' Hanlon is an award-winning poet, writer and movement artist working in arts and health with Waterford Healing Arts Trust. Lani's workshop, A Sensual Life, invites you to cherish your imagination, sensuality and playfulness through creative writing. 'For this hour, participants will slow down, rest and come more fully into the body, accepting where and how we are in the moment as part of life and our creative practice and process. Then, in a relaxed and easy way, we will write through the senses, evoking the simplicity, mystery and magic of a child with crayons.'
Justin Grounds is a violinist, composer and music producer based in West Cork. Justin has produced five solo records and performs with Barefoot Baroque, the Vespertine Quintet and as a soloist. He has been on the Arts for Health team in West Cork for six years, working as a resident composer in local community hospitals. Justin composed the interactive score for the Stories from the Well Field puppet performance which was presented in Waterford Healing Arts Trust in 2019.