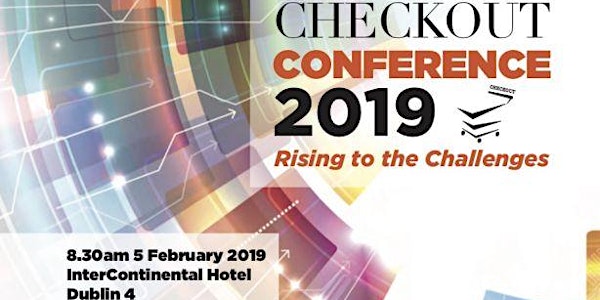 Checkout Conference 2019: Rising to the Challenges in association with dunn...
Location
InterContinental Hotel
4 Simmonscourt Road
D04 A9K8 Dublin 4
Ireland
Description
'Rising to the Challenges' is the theme of the Checkout Conference 2019, in association with dunnhumby. Taking place in the Intercontinental Hotel in Ballsbridge in Dublin on 5 February, the Checkout Conference will look at the opportunities, as well as the challenges, that the future is likely to bring, and we are delighted to welcome back our MC for the 2018 conference, TV3's Colette Fitzpatrick.
The retail sector continues to be pushed to the limits by the always-connected, digitally-minded consumers that want convenience, personalisation and value in the omnichannel world. Retailers are coping with razor-thin profit margins, increasing the pressure to deliver for customers at any time, any place, at the right cost, and personalised to them. Customers don't only wish for, but expect, an exceptional and consistent experience across all channel. The new battle lies in better understanding and successfully anticipating what will appeal to individual customers. Winning that battle is reliant on, among other things, having the right data strategy and exploiting the insights that are now available.
With this in mind, the Checkout Conference 2019 will look at a number of themes that are topical in Irish and global retail, including the continuing rise of personalisation and customisation, making digital technology work for retailers and consumers, how Irish bricks and mortar retailers are faring against their online counterparts, sustainable retail, including how retailers are responding to the needs of the ethical and responsible shopper, the likely impact of a post-Brexit world on Irish retail, and packaging, particularly retailers and FMCG brand's efforts to remove single use plastics from the retail supply chain.
Meet the Speakers
Checkout is happy to announce that a number of speakers have confirmed their participation in next year's event such as The Right Honourable, The Lord Price CVO, former MD of Waitrose, Kari Daniels, Chief Executive Officer, Tesco Ireland, Seamus Griffin, Chief Executive, Griffin Retail Group, Mike Watkins, Head of Retailer and Business Insight, Nielsen, John McCambridge, and Adam Smith, Head of Media Strategy, dunnhumby UK and Zana Busby, Director, Retail Reflections.
Further speakers, including the line-up for our Leaders Panel, sponsored by The Sales Institute, include Head of Sales (Off Trade) for Heineken Ireland; Stephen Dillon, Head of Planning, Mondelez.
What the Checkout Conference offers
Insights from leading experts on the retail industry in Ireland and Europe

Advice from leading FMCG suppliers on effective branding, NPD, category management, and marketing and promotional strategies

A greater understanding of the typical shopper's needs in a highly competitive marketplace

Exclusive research from Irish and European industry specialists
For further information on the conference visit: www.checkout.ie

Terms and Conditions: Should you wish to cancel, a full refund (minus €20 administration fee) is available up to one calendar month before the event. If cancelling within one month of the event, a 50% refund will apply. If cancelling within ten days of the event, no refund will be applicable. Contact Checkout Publications for more details.