Description
About the Workshop
At this fun event children will learn all about the Strawboy tradition. They will also learn some techniques of the ancient skill of straw weaving and even make a Strawboy hat. The day will involve lots of fun games and activities to stimulate their interest in the rich cultural heritage of straw boys, wren boys and mummers. Their toutor for the day will be Melanie Lorien who is a member of the Heritage in Schools Programme and who brings the magic of these traditions very much to life.
The workshop will be held in Ballyhoura Apple Farm from 10am to 5pm on Saturday 27th October. Lunch and Snacks will be provided.
This event is suitable for children of 8 years and upwards.
Booking is essential as places are limited.
This event is funded by the Heritage Council
About Melanie
Melanie is a craft-maker who works with straw, she is particularly interested in the traditions and folklore associated with the harvest. She also focuses upon St Brigids Day, Straw Boys, Wren Boys and Mummers.

Melanie brings these customs and traditions to life for the children while they learn how to make straw items and get the opportunity to wear Straw Boy costumes. Melanie also has a large collection of unusual straw items from around the world which she shares with the children bringing the stories of other cultures directly into the classroom.

Melanie is a member of the International Guild of Straw Craftsman and their representative in Ireland. She regularly demonstrates at The National Museum of Country Life and other heritage events around the country.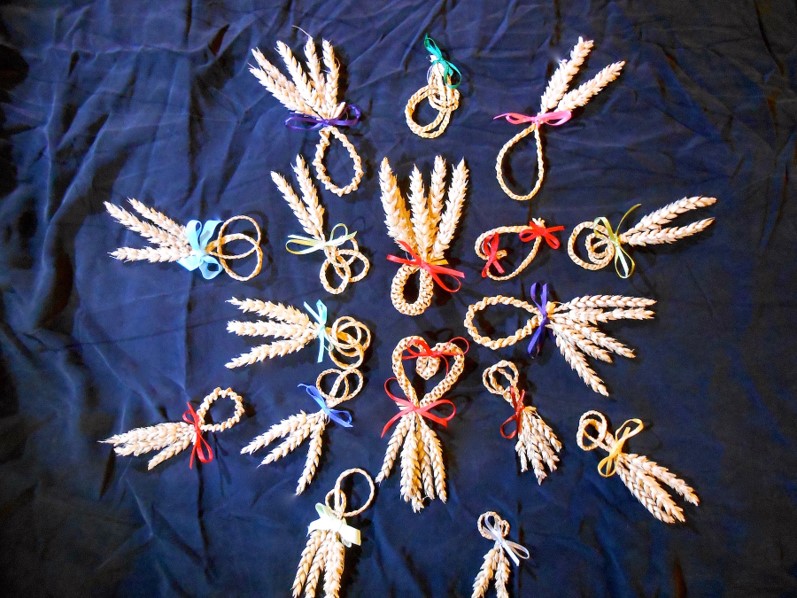 Testimonials
"This was one of the best experiences we've had with an outside facilitator. Melanie was so pleasant and engaging. Her workshops were well-structured and age-appropriate. Her ideas were fabulous and the boys had beautiful pieces of work in the end. Melanie also managed to cover some of the history and culture of straw craft as part of her visit. This is an exceptional scheme and of huge value to schools."