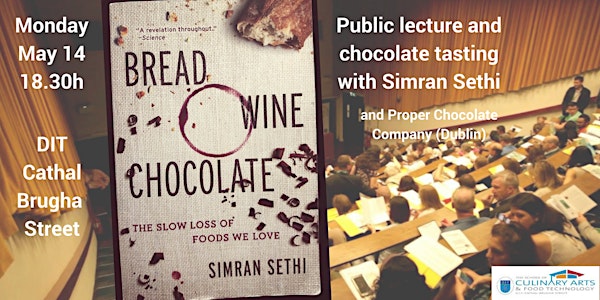 Chocolate and agrobiodiversity - public lecture with author Simran Sethi
When and where
Location
DIT Cathal Brugha Street Dublin Ireland
Description
The DIT School of Culinary Arts and Food Technology is delighted to welcome Simran Sethi, journalist, author and creator of The Slow Melt, the first podcast on the continuum of chocolate, on May 14th for a public lecture and chocolate tasting. In her award-winning book Bread, Wine and Chocolate: The Slow Loss of the Foods We Love, she investigates the loss of biodiversity from soil to plate of some of our favourite foods, and tells the story of what we are losing, how we are losing it, and the inspiring people and places that are sustaining the foods we love.
On the day, Simran Sethi will guide us in a tasting of bean-to-bar chocolates from Tanzania and Nicaragua, produced right here in Dublin by the Proper Chocolate Company.
Join us for this exciting opportunity to meet Simran Sethi, and learn more about these delicious yet endangered tastes! Admission is free, but reserve your place today!
The event is part of the run-up to the Dublin Gastronomy Symposium 2018, the biennial event providing a forum for those interested in gastronomy research to come together, network and engage in academic discourse regarding "all things food". This year's event will be held at the School of Culinary Arts and Food Technology on May 29-30, 2018. Registration is now open!
Simran Sethi is a journalist and educator focused on food, sustainability and social change. Named the environmental "messenger" by Vanity Fair and designated one of the top eight women saving the planet by Marie Claire, Simran is the creator of The Slow Melt, the first podcast on the continuum of chocolate, winner of the 2017 SAVEUR award for Best Food Podcast. She is also the author of Bread, Wine, Chocolate: The Slow Loss of Foods We Love. The book tells the story of changes in food and agriculture through bread, wine, chocolate, coffee and beer, and was named one of the best food books of 2016 by Smithsonian. www.simransethi.com
The Proper Chocolate Company , founded by Patrick and Kelli Marjolet in May 2016, produce bean-to-bar chocolate in micro-batches in Dublin. Much like a winemaker seeks out the best grapes, they source the finest beans and carefully roast them to bring out their optimum flavours. www.properchocolatecompany.com