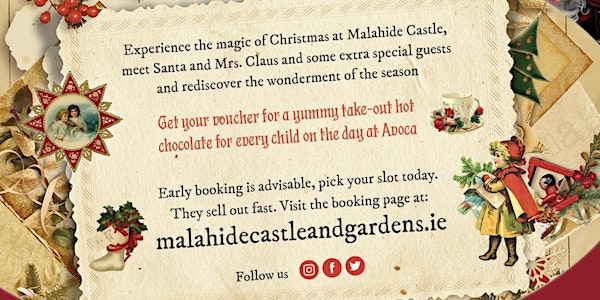 Christmas at Malahide Castle
Christmas at Malahide Castle is inspired by 'Twas the Night before Christmas. Step back in time to an era full of joy, excitement and cheer.
When and where
Location
Malahide Castle & Gardens Back Road Dublin Ireland
About this event
' Christmas comes but once a year and when it comes it brings good cheer'
We have created a bygone era, full of nostalgia, wonderment, joy, magic, anticipation!
Stories of Christmas past will be narrated and recounted and songs will be sung as nothing says Christmas quite like the melodious strain of festive tunes!
Santa is waiting to meet you and your family this Christmas. We've got some surprises in store for you and can't wait to welcome you to Malahide Castle!
Frequently Asked Questions
Do adults require tickets for this event?
Yes, everyone attending will be required to have a valid ticket. Tickets are available for adults, children and babies.
Can I bring a buggy?
Buggys are not permitted within the Castle. There will be a buggy park outside provided which can be used at the owners own risk.
Is there parking?
There is parking on the Castle grounds which can be accessed via the Back Road. If you are attending later in the day, please be aware that Wonderlights will also be using the car park. Please allow adequate time to park your car as traffic can be heavy at this time.
How long is the event?
Christmas at the Castle will be one hour. This will include time with Santa and a Christmas themed tour of the Castle.
Will we see Santa?
Every family will have one on one time with Santa
Will Santa have a present for my child?
Yes, Santa will have a present for every child and baby. Please ensure when filling in your families details that you include the ages of your children.
Can I bring food and drink?
Food and drink will not be permitted in the Castle.
Is there wheelchair access?
Yes, there is wheelchair access. However, there are 3 steps down to Santa's Grotto. Please let us know in advance of any accessibility requirements.
Can I get a refund?
This is a non-refundable event.
Is the tour of the Castle included?
There will be a Christmas themed tour of the Castle which will be aimed towards the children.
Can we get a photo with Santa?
Yes, there will be a photo opportunity with Santa taken by one of our elves. Photos will be available to purchase at the Castle.
Can I amend my ticket?
We do not have availability for tickets to be transferred to another event time or date.
Do babies require a ticket?
Yes, babies up to one year require a ticket.
Is this event included in my membership?
Christmas at Malahide Castle is a separate event and not included in the membership. Members will have access to a 24 hour pre-sale prior to general release.
When should I arrive?
There will not be availability to spend time in the Castle prior to your event time. We recommend being at the front door of the Castle 5 mins prior to your event time. Please allow adequate time for parking.
Can we still see Santa if we are late?
This will be managed on a case by case basis. We will do our best to ensure you can make the most of your experience but there will not be availability to move to another event time.
Is Wonderlights included in this event?
Wonderlights is a separate ticketed event.
Will we be able to take the train, Toots?
Toots is subject to availability, this a seperate ticket.
When can we use our complimentary kids hot chocolate?
Avoca have kindly provided vouchers for a complimentary kids hot chocolate. This can be redeemed up to Christmas Eve, only at their Malahide branch.