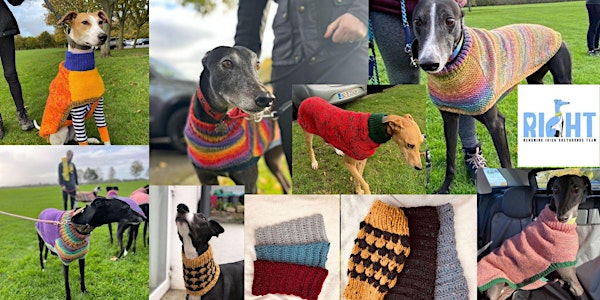 Christmas fundraiser for RIGHT - Rehoming Irish Greyhounds
Enter this raffle for a chance to win a gorgeous handknit doggy jumper or snood. All proceeds go to RIGHT Rehoming Irish Greyhounds.
About this event
Enter this raffle to support the amazing work done year-round by the team at RIGHT - Rehoming Irish Greyhounds. Be in with a chance to win one of seven handknit greyhound/lurcher jumpers and one of 10 handknit and crocheted snoods. All the jumpers are washable on a delicate wash at 30 degrees and range in length from 28 inches to 32 inches. The snoods are handwash, dry flat.
Absolutely all money raised will go to the team at RIGHT who do phenomenal work rehabilitating and rehoming these beautiful dogs when the racing industry has no more use for them. Fiona and Kasia who have made all the knitwear both have dogs from RIGHT. Kasia is currently fostering the beautiful Toby alongside her adorable lurcher Dobby, and Fiona adopted Demi, a happy little nutter who is living her best life with her adopted greyhound brother Paddy.
If you win a jumper and don't have a dog, or don't have a dog the right size, you will have the option to donate your prize to RIGHT who will happily use it for one of the hounds currently in their foster care. In its place, we will send you a bundle of recently published books kindly donated by Gill Books, Penguin Random House Ireland and Harper Collins Ireland.