Description


Are you championing better work and working lives in your organisation?
The CIPD Ireland Annual Conference will explore the changing nature of trust, its distributed nature and it's effect on how we attract, engage and retain our people. The one-day conference will take place on Tuesday 21 May 2019 from 8:30am to 5:00pm in Croke Park.
Guided by our MC, Colette Fitzpatrick, attendees will be able to engage with senior HR leaders from some of Ireland's biggest companies such as Novartis and Kerry, along with our keynote speaker, Rachel Botsman, and many more!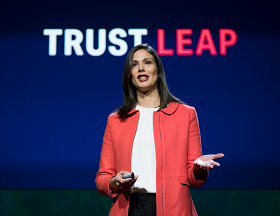 Speakers line-up
Rachel Botsman, Author and Trust Fellow, Oxford Univeristy, Saïd Business School, on an explosive new era of trust and technology and what this means for life, work and how we do business

Malcolm Sheil, CEO & President of EMEA at Kerry Group, and advocate of the development of people and culture in Kerry Group, with Kerry's Europe VP of HR, Kate Brosnan

Pedro Lopez and Niamh McNamara of Novartis (CIPD Ireland 2019 Award Winners), the drivers of a trusting culture to instil a more inspired, curious, unbossed organisation within Novartis Ireland

Tara Levins, Managing Director at Accenture, and leader of Accenture Ireland's Talent and Organisation consulting practice, focusing on the Future of Work and how organisations can equip themselves for the future

Robert Watt, Secretary General at the Department of Public Expenditure and Reform, who is leading transformation across the civil service with Assistant Secretary of the Civil Service HR Division, David Cagney

Lucas Van Wees, President of the European Association of People Management, expert on the HR landscape across Europe and the celebration of International HR Day

Dr. Annie Curtis, Research Lecturer at the Royal College of Surgeons in Ireland, and entertaining expert on the role of the molecular clock (also known as body clock)

Dr. Shane Bergin, physicist and lecturer in science education at the School of Education, University College Dublin

Ciara Beth Ní Gríofa, the inspiring Founder and Creator of MiContact, an app to help people who are on the autism spectrum learn to make and maintain eye contact more comfortably



___________________________________________________________________________
Cancellations:
Cancellations MUST be notified in writing.
A cancellation fee of 25% of the full conference fee will apply to cancellations received up to 30th April 2019. No refund can be made for cancellations received after 30th April 2019. A substitution may be made at any time.
CIPD reserves the right to cancel or reschedule the conference or change its associated programme or substitute a speaker. In the event of cancellation, liability is limited to the amount of registration only.

Please Note:
Professional photography and video production may be taking place at the event and these images may be used on future promotional materials for CIPD. Please note that by attending the event, you are giving your consent for your image to be used on any CIPD promotional materials.

For your security and peace of mind, CIPD and its subsidiaries will not supply your details to any organisation for marketing purposes. By submitting this request you confirm that you agree to the use of your information as set out in CIPD's privacy policy. We reserve the right to include your name in a list of delegates at the event.
Non-members may click here to sign up to receive our e-newsletters which will keep you up-to-date with HR news in Ireland as well as CIPD Ireland events and survey research.