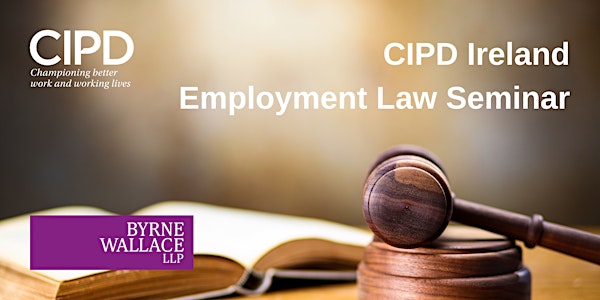 CIPD Ireland Employment Law Seminar
CIPD Ireland Employment Law seminar
When and where
Location
Aviva Stadium - Presidents Suite Lansdowne Road Dublin 4 Ireland
About this event
Join us in person on 02 February 2023, at the Presidents Terrace, Aviva Stadium, CIPD Ireland Employment Law Seminar. The leading employment law team from ByrneWallace LLP will be joined by HR leaders to give the practitioner view, together they will address these major changes and highlight actions required.
CIPD Ireland is partnering with the employment law team at Byrne Wallace to bring you the most pertinent updates in Employment law.
Our annual law seminar is always very popular with a combination of expert sessions and panel discussions with attendee participation encouraged throughout the day.
For anyone with responsibility for managing people in your organisation, this seminar will review your compliance with existing legislation and update you on the ever-increasing number of EU and Irish employment laws coming down the track.
During the seminar we will cover:-
Transparent and predictable working conditions regulations – understanding the implications of the Regulations in force from 16 Dec 2022.
New limitations on probationary periods
More detailed and earlier contracts of employment
Restricted grounds for preventing 'parallel' employment
Protected disclosures – with new legislation in effect since 1 Jan 2023, is your organisation compliant?
The nature of a complaint and exactly who can complain
Avoiding mistakes in complaint management
Pensions and retirement – with much public discourse on changes to retirement age and pensions
how to save money on Master Trusts
Preparing for autoenrollment
Work life balance, flexible and remote working – complying with the new Work Life Balance and Miscellaneous Provisions Bill 2022.
Managing different entitlements for parents, carers and other employees
Sustaining culture and compliance with onsite and virtual workers
Supporting those experiencing domestic abuse
Gender pay gap reporting – what we have learned from the 2022 experience, and how we can improve for 2023.
Trends from 2022 reporting
Action planning for impact
Learnings for the future
Equality and disability – and complying with the imminent Code of Practice on Reasonable Accommodation
Update on equality agenda
Managing reasonable accommodation
This event is open to members and non-members.
20% discount for Teams of 4 or more, contact events@cipd.ie to avail of this discount.
If any queries please email events@cipd.ie
Cancellations: Cancellations MUST be notified in writing.
A cancellation fee of 25% of the full fee will apply to cancellations received up to 12 January 2023. No refund can be made for cancellations received after 12 January 2023. A substitution may be made at any time. CIPD reserves the right to cancel or reschedule the event or change its associated programme or substitute a speaker. In the event of cancellation, liability is limited to the amount of registration only.
Please Note:
Professional photography and video production may be taking place at the event and these images may be used on future promotional materials for CIPD. Please note that by attending the event, you are giving your consent for your image to be used on any CIPD promotional materials.
For your security and peace of mind, CIPD and its subsidiaries will not supply your details to any organisation for marketing purposes. By submitting this request you confirm that you agree to the use of your information as set out in CIPD's privacy policy. We reserve the right to include your name in a list of delegates at the event.
Non-members may click here to sign up to receive our e-newsletters which will keep you up-to-date with HR news in Ireland as well as CIPD Ireland events and survey research.