CIPD Ireland Western Region webinar - Is the Future of Work remote? Remote Working – Challenges, Opportunities & Future Directions
About this Event
The Regional Committees across CIPD Ireland are collaborating to bring members an inspiring range of virtual learning events through 2021. Each event is hosted by one of our volunteer Regional Committees, which are based in the Midlands, Mid West, North West, South, South East and West. We hope you will join us to stay-up-to-date with developments and find out how to deal with the challenges we are facing locally and nationally.
This event will be hosted by the CIPD Western region and brings guest speakers Professor Alma McCarthy, Head of the School of Business and Economics at NUI Galway and Barry Winkless Strategy and Innovation Director and Future of Work lead at The Cpl Future of Work Institute, together to consider what the future of work looks like
Is the Future of Work remote? Remote Working: Challenges, Opportunities and Future Direction
In this session Professor Alma McCarthy will explore some of the challenges, opportunities and future directions of remote working, and share insights from the recent NUI Galway /Western remote working research and from her contribution to new RW Irish government strategy.
Barry Winkless, CSO Cpl & Head of Future of Work Institute will discuss The 3 W's of the Future of Work: 'Workplace Evolutions & Integrations.' Barry will highlight organisational research on how large companies are viewing the workplace but would be in a more strategic context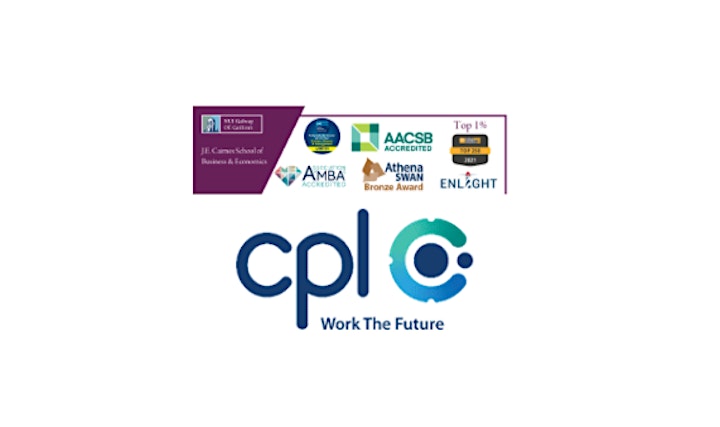 Speaker profiles
Professor Alma McCarthy is Head of the School of Business and Economics at NUI Galway. Research led by Professor Alma McCarthy on remote working in the light of the pandemic was used by the government to develop the new National Remote Working Strategy. She has also led a senior civil service leadership development evaluation project and report commissioned by the Department of Public Expenditure and Reform.
Her research interests include public sector leadership and human resource development. She is the Principal Investigator for the Science Foundation Ireland (SFI) funded talent management in National Science Foundations' research project gathering data in Ireland, New Zealand, Finland, US, Hong Kong and Singapore. Professor McCarthy is a Chartered Member of the CIPD.
Barry Winkless, CSO Cpl & Head of the Future of Work Institute.
Barry is a thought leader in strategic design, innovation and engagement with a particular focus on how society is changing and what that means to the world of work. Over the past 23 years he has worked globally with some of the world's most respected organisations. He is a frequent author and speaker at numerous client and external events. His key speaking topics include: The future of work and society, creativity & creative leadership, designing employee & client experiences, technology foresight, immersive storytelling and new operating models.
Barry heads up the Future of Work Institute (part of Cpl & Outsourcing Inc- a global Talent organisation), a multidisciplinary team working globally to question, explore and design future work solutions with organisations. So he isn't just a speaker but is actively pushing the frontiers of the future of work everyday in the real world.
His new book: The Future of Work: A Guide for Leaders drops in 2021
This event may be recorded and made available on the CIPD Ireland website www.cipd.ie
Please Note:
For your security and peace of mind, CIPD and its subsidiaries will not supply your details to any organisation for marketing purposes. By submitting this request you confirm that you agree to the use of your information as set out in CIPD's privacy policy. We reserve the right to include your name in a list of delegates at the event.