Let's Look at Men's Health – International Men's Day 2021
About this event
Understanding men's health challenges specifically has never been more important than now. This year, to mark International Men's Day, we are running a webinar examining the impact of health challenges for men with an exploration of how they can be best supported at work.
Joining our panel to discuss this important topic will be Barry Holmes, Director of HR, RCSI University of Medicine and Health Sciences and Breffni McGuiness, National Bereavement Development Specialist for workplaces, Irish Hospice Foundation and chaired by Jane McDonald, Engagement and HR Projects Manager, CIPD Ireland
We look forward to you joining us on the day the day and to take part in the conversation.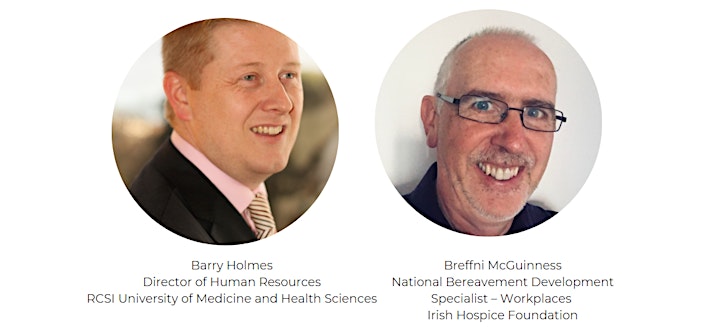 About our speakers
Barry Holmes, Director of Human Resources, RCSI University of Medicine and Health Sciences
Barry Holmes has had a distinguished career in HR.  Prior to joining RCSI as the Group Director of Human Resources, Barry held key HR executive roles as RSA Insurance Ireland Ltd, Intel and IBEC.  Barry also assumes executive accountability for the Estates and Facilities functions in addition to the HR portfolio.
A Commerce graduate of University College Dublin, Barry has also completed a Masters in Business Studies (MBS) specialising in Human Resource Management and an MSc in Governance with University College Dublin and the Institute of Public Administration. In addition, Barry is a Chartered Fellow of the Institute of Personnel and Development (FCIPD), a member of the Institute of Directors (M Inst D), a former Chair and now a member of National Executive of CIPD Ireland.
Breffni McGuinness, National Bereavement Development Specialist for Workplaces with Irish Hospice Foundation
Breffni provides support, education and training in workplace grief situations to a broad range of sectors including health, education, IT, manufacturing, state, public and private. He has published numerous articles and resources for workplaces on supporting staff who are bereaved and the development of bereavement. He recently published Grief in the Workplace - Responding to Suicide – A guide for Employers (2021). He is a Drama therapist and member of the Irish Association of Creative Arts Therapists (IACAT). Breffni's special interests are coping with hidden/difficult losses and the use of creativity in working with people who are grieving.
This event may be recorded and made available on website
Please Note:
For your security and peace of mind, CIPD and its subsidiaries will not supply your details to any organisation for marketing purposes. By submitting this request you confirm that you agree to the use of your information as set out in CIPD's privacy policy. We reserve the right to include your name in a list of delegates at the event.