The importance of sleep, physical & mental wellbeing: how we stay healthy in a changed work environment.
About this Event
The Regional Committees across CIPD Ireland are collaborating to bring members an inspiring range of virtual learning events through 2020/2021. Each event is hosted by one of our volunteer Regional Committees, which are based in the Midlands, Mid West, North West, South, South East and West. We hope you will join us to stay-up-to-date with developments and find out how to deal with the challenges we are facing locally and nationally.
This series will be hosted by the CIPD Midlands region with guest speakers Tom Coleman, Sleep Specialist and Health Scientist, David Gillick, Two Time European Champion, Olympian, and Mental Health Advocate and Niall Ronan, Titan Wellness and Ex Leinster, Munster, and Ireland Professional Rugby Player
Join us on Wednesday 10 February 2021 to hear Tom speak about the importance of and impact of Sleep on Health, Sleep Issues and Health Science. He will also give an overview and insights from working with many multinational clients on aspects of Sleep, Health & Wellbeing. David will highlight the current data on mental health in the workplace. Discuss the reasons behind the recent rise in stress related illnesses and what it means to employers. Building effective ongoing programmes to help support employers mental and physical wellbeing - stress management, open mental health discussions, warning signs, how to help, holistic support. And Niall will provide an overview of Remote Wellbeing, and the type of innovative services, approach and solutions required in a very changed work environment due to COVID. Niall will also speak on the benefits of physical wellbeing for all aspects of health.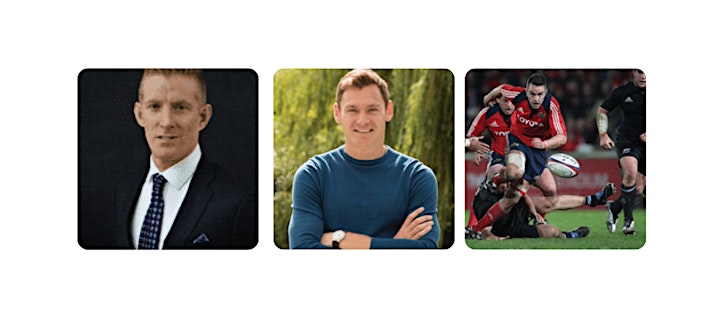 Speaker profiles
Tom Coleman -Sleep Specialist and Health Scientist
Tom Coleman is a qualified Health Scientist and holds an Honours Degree in Health Promotion & Public Health. Tom is the co-founder of My Nutrition Ireland for the past 9 years consulting and working with elite teams, coaches, and business in aspects of Nutrition, Sleep, performance & recovery.
Tom has worked in Sleep & fatigue management for the past 8 years, he has contributed to research, sitting on an expert panel in 2018 with other scientists like Professor Russell Foster from Oxford University. Tom is a founder member and Director of Remote Wellbeing, designing, informing and delivering a host of blended programs and solutions in corporate wellbeing.
David Gillick - Two Time European Champion, Olympian, and Mental Health Advocate
David is a former professional track and field athlete. David represented Ireland for 12 years at all major athletics championships including the 2008 Olympic Games. He successfully defended his 2005 European Indoor 400m title in 2007 and in 2009 finished 6th in the World Athletics Championship 400m final.
David has a passion for fitness, food and promoting healthy lifestyles, winning celebrity MasterChef kitchen, and writing two bestselling books, David Gillick's Kitchen and more recently Back On Track, David's 4 part plan to a healthy lifestyle, in which he talks openly and honestly about his struggles with mental health post a sporting career and the strategies he used in recovery. David currently works in corporate wellness and performance, consulting and supporting organisations, teams and individuals in realising their potential and operating efficiently and effectively to achieve their respective goals.
Niall Ronan -Ex Leinster, Munster, and Ireland Professional Rugby PlayerNiall Ronan is a former professional rugby player with Munster rugby with over 100 caps for the province; he also represented Leinster and has 4 caps for Ireland. Niall holds a BA Degree in Strength & Conditioning and in 2015 was one of the founder members of Titan Wellness. Titan Wellness assists companies nationwide with their wellness solutions in physical and mental wellbeing. Last year Niall became a founder member of Remote Wellbeing, offering innovative solutions to companies for their remote and shift workers.
This event may be recorded and made available on website
Please Note:
For your security and peace of mind, CIPD and its subsidiaries will not supply your details to any organisation for marketing purposes. By submitting this request you confirm that you agree to the use of your information as set out in CIPD's privacy policy. We reserve the right to include your name in a list of delegates at the event.