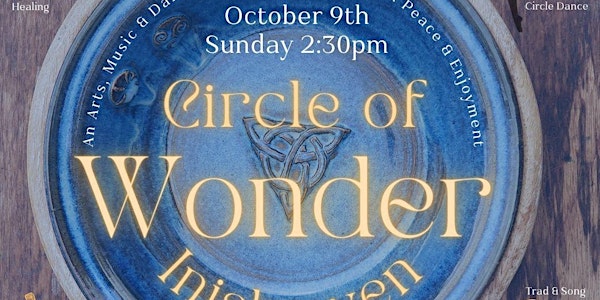 Circle of Wonder Inishowen
Circle of Wonder Inishowen is a New Arts, Music & Dance Participatory Experience integrating Ancient Skills with New Insights
When and where
Location
The Mullan Hope Centre, Moville Ballynally Lane F93 CH92 Moville Ireland
About this event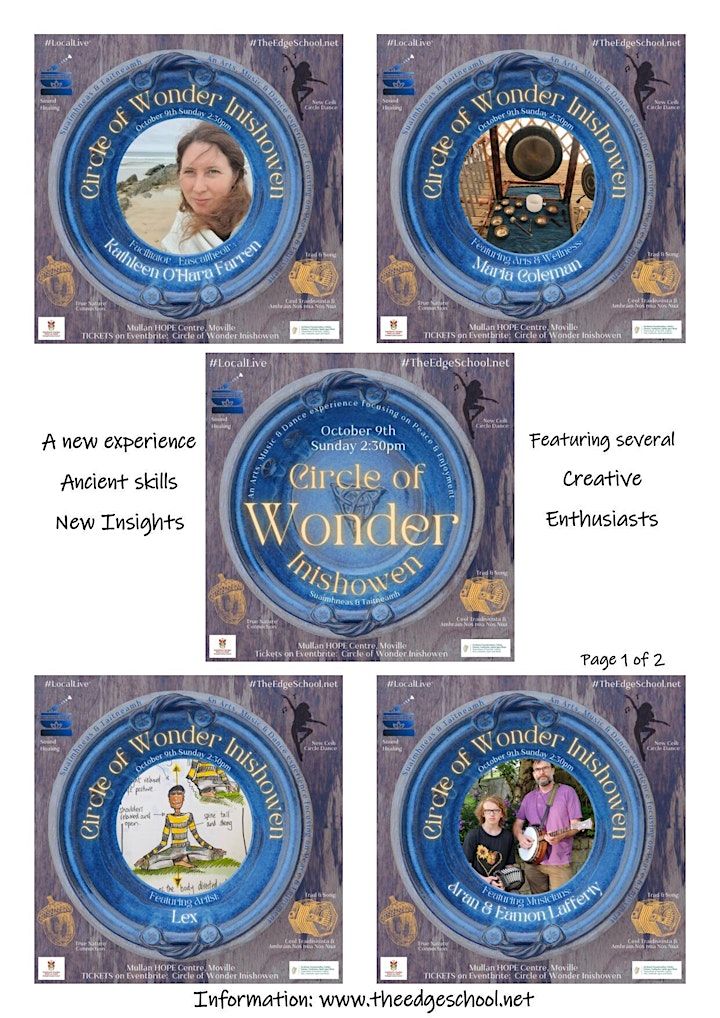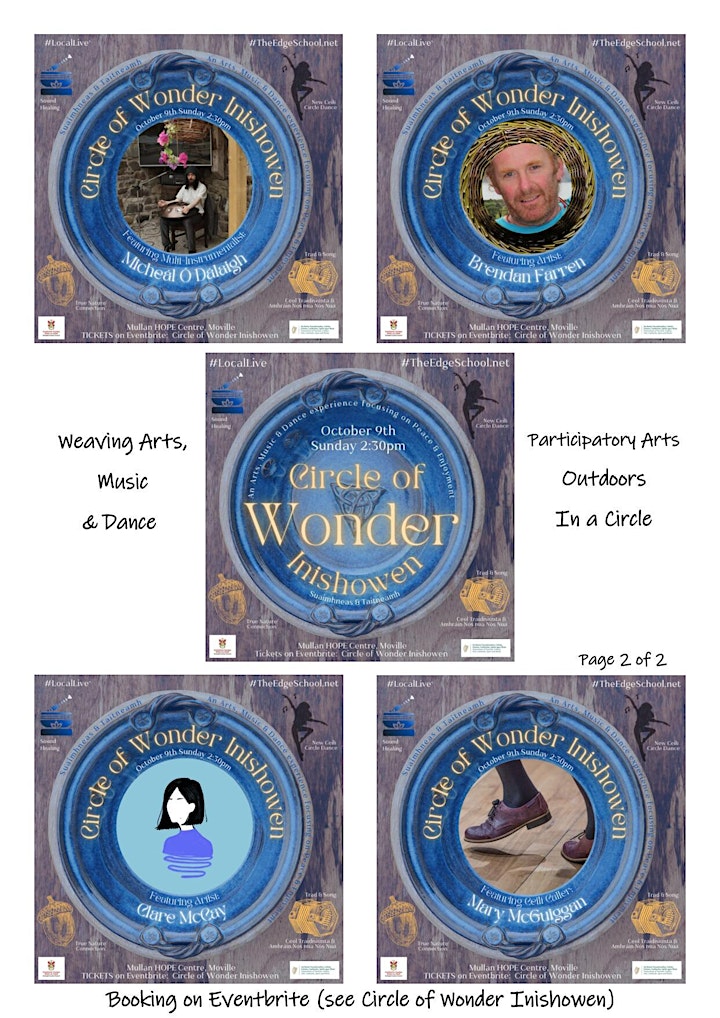 The Circle of Wonder Inishowen is a new experience that integrates skills that are ancient with insights that are new!
Note: this is a one-off PARTICIPATORY ARTS theater-like event starting at 2:30pm and finishing by 5:30pm Sunday Oct. 9th 2022. You will be invited to listen & engage, play rhythm instruments & dance and more to reveal the sensation of wonder!
The Circle of Wonder Inishowen will bring you an afternoon sit-down outdoor event, like none other! While you sit in the Circle, you will hear Sound Healing Instruments, Traditional Tunes, New Songs and before sunset we'll all dance a New Ceilí Circle Dance.
All will be invited to keep the rhythm by clapping and playing small rhythm instruments. Also as part of this unique event we shall be creating yarn and will weave the new thread into a co-created fabric! Also the mood of the day will be illustrated by artists painting live at The Circle of Wonder.
Featuring:
Gentle Sound Healing with Maria Coleman of Comhcheol Arts & Wellness
Hand Pan rhythm & melodies with Micheál Ó Dálaigh
Traditional Music with Aran & Eamon Lafferty
New Circle Ceilí dancing by all Present with Ceilí Caller Mary McGuiggan
Three Artists creating "The 3 Centres" with Lex, Brendan Farren and Clare McCay (see below for details)
Hosted by Kathleen O'Hara Farren who integrates Cultural Creativity with Wellbeing
You!
A new crew of local talent & support has formed to ensure this event brings you Peace & Enjoyment, Suaimhneas & Taitneamh!
Practicalities:
When you book your ticket you will be put an an email list for any updates. Parking is a short walk from the outdoor location so arrive in time for the 2:30pm start. Also there is a drop-off point for wheelchair access. You are welcome to bring a flask and a blanket too!
Although the Circle can always be widened to accommodate more people, we do have room for a certain amount of people so... book now, if you really want to come - and if tickets are sold out or all gone, we have arranged a waiting list option for you. Let us know if you'd like to come to an event like this in the future - our intention is to nurture this kind of arts and culture for all able and interested!
Míle buíochas le gach duine ag tabhairt tacaíochta don an ócáid ​​speisialta seo. With gratitude to all of you who are supporting in many ways to make this new event special!
More information below (following the photo introductions to our Creative Enthusiasts!)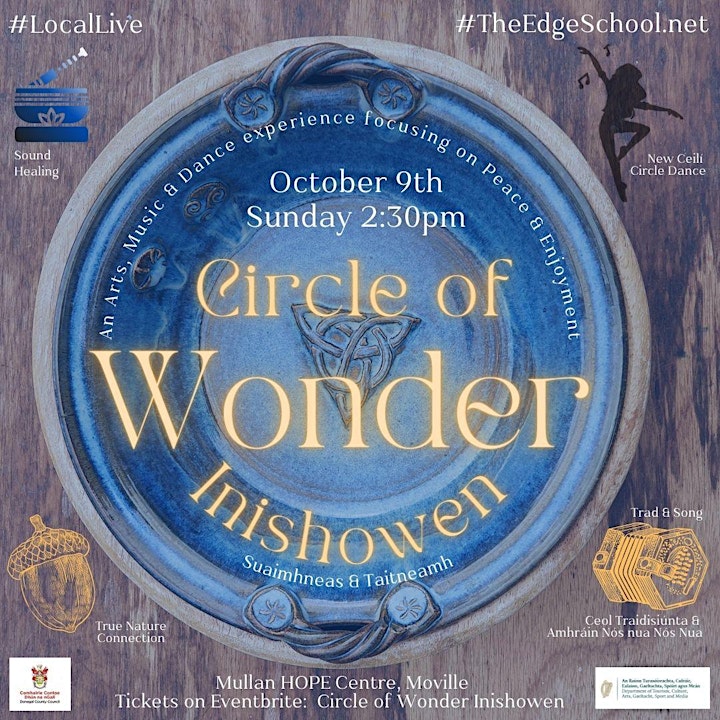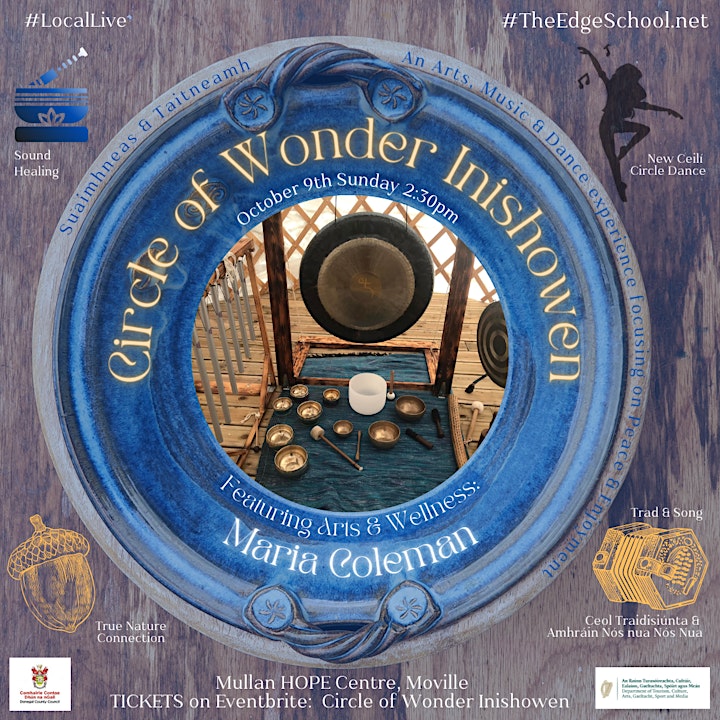 Maria Coleman from Comhcheol Arts and Wellness also runs Donegal Yoga Retreats. She has a background in fine art, music, multimedia, research, teaching, community development and writing. Maria's keenest interests lie in the space where yoga, art, neuroscience, psychology, music, play, sound healing and wellbeing meet. She also makes art and heritage documentaries.
Maria will treat us to a Sound Healing experience with Chimes, Gongs and more!  "I am thrilled to be able to bring Maria to the Circle of Wonder Inishowen event, all the way from west Donegal!  The variety and depth that she is bringing will resonate with us... until she returns again (says I hopefully - as we shall benefit greatly at this taste of tones and will surely want to experience it more often)" says Kathleen O'Hara Farren who is facilitating at this event.
Aran Lafferty has been playing the concertina for a couple of years.  Learning tunes from the Inishowen traditional music school, Ceolán he also likes to play his own compositions.  His father Eamon has always been a musician and has been enjoying the banjo in recent years.  We look forward to welcoming Aran & Eamon Lafferty to play in the Circle of Wonder!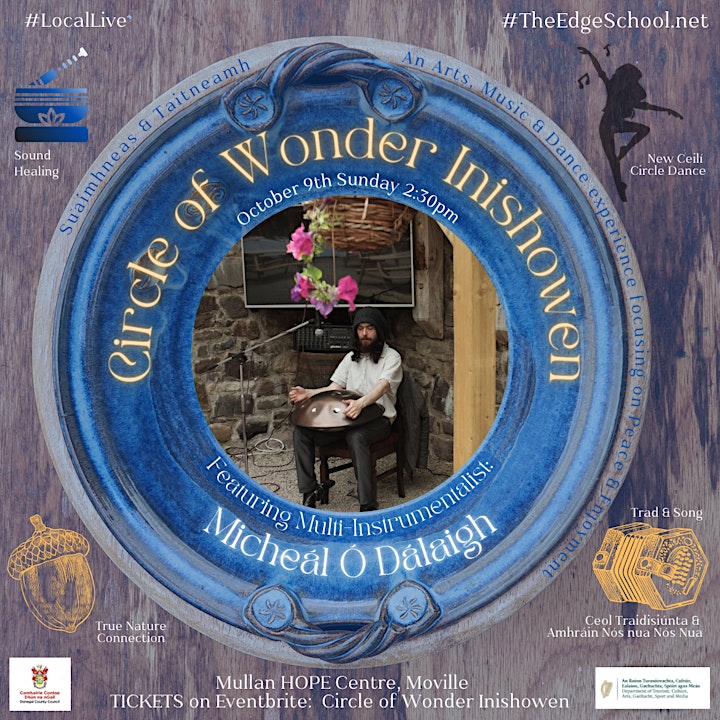 Micheál Ó Dálaigh is a multi-instrumentalist Artist and Sound Healer who has in recent months been treating many people around the country to his unique and amazing Hand Pan melodic drumming.   "I feel fortunate to be welcoming Micheál to share his many gifts with us. It's more than just listening to the lovely music, it is a most pleasing whole body experience to hear Micheál play." says event organiser Kathleen O'Hara Farren.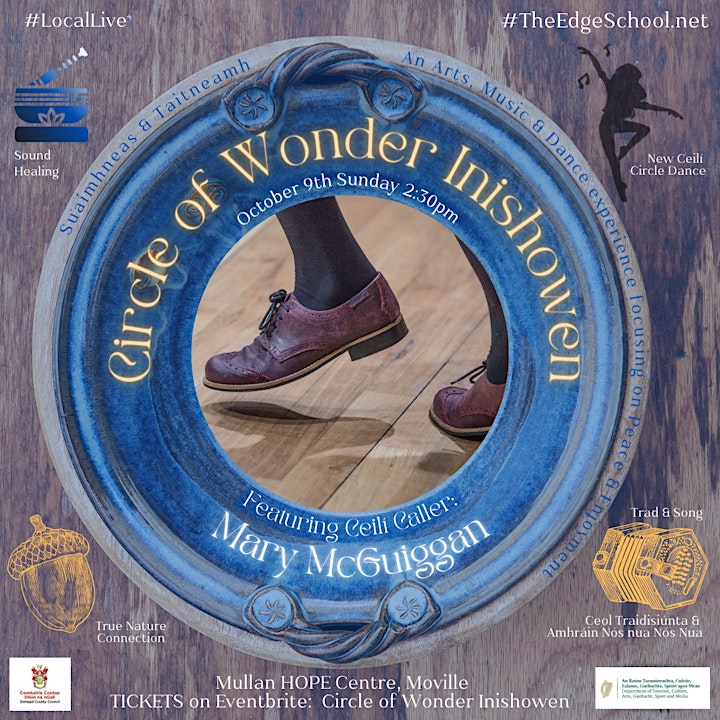 Mary McGuiggan has been dancing since she was 4 years old!  She has taught in schools and communities for fun, celebration and exercise. Mary also teaches workshops nationally and internationally and enjoys composing new pieces for  different occasions.
She believes that dancing is "food for the soul".  We are looking forward to an easy and cool new circle dance with ceilí steps - oh and weaving being one of the themes of the day - we shall weave our way around the dance floor!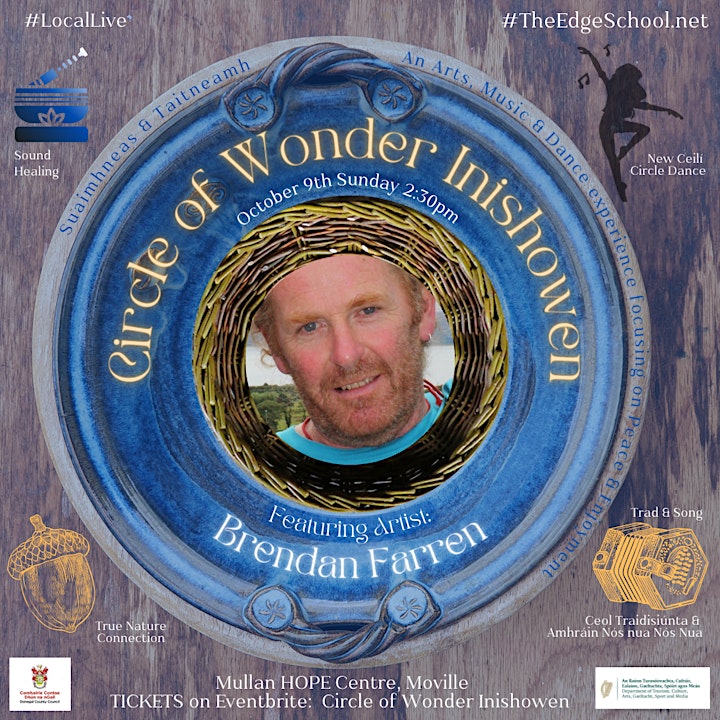 Brendan Farren of Big Green Art & Big Green Weaving has been bringing many gifts to the communities in Inishowen and surrounds with his sculptures, basket making classes and art through murals and signs. From living willow domes (the children's favorite in our local school) to video's on 'how-to' make your own baskets, Brendan has reached people all around the world.  Appreciated by many for his gentle ways, Brendan is also a great home maker and loving dad!  "I am grateful for Brendan's support during the preparations for this event and I look forward to seeing him paint with the trio at the circle." says Kathleen O'Hara Farren :)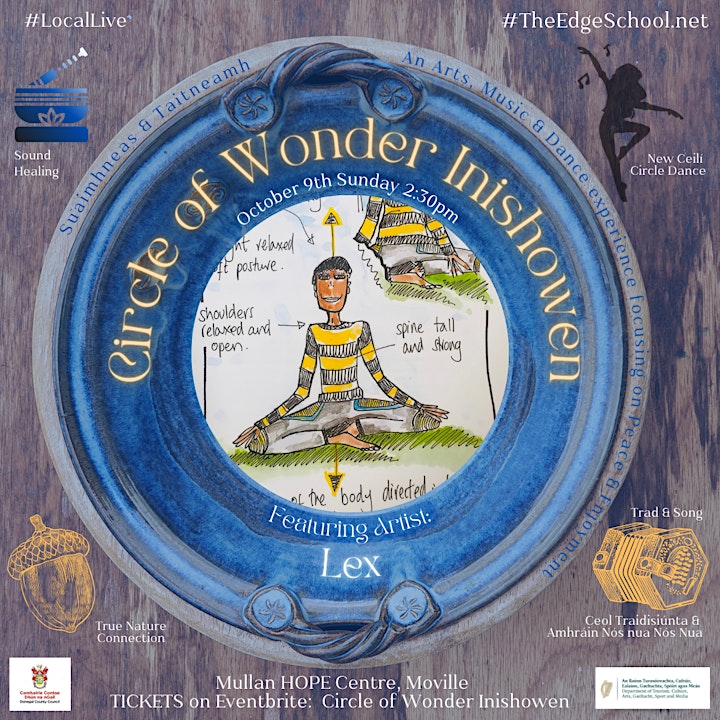 Lex is a creative facilitator, movement and visual artist, permaculture designer and yoga teacher. "I bring fun, freshness, creativity, depth, sensitivity, embodiment and an innate sense of play to groups and individuals. I enjoy working in a range of places including arts centres, businesses, hospitals, schools and retreat centres." says Lex. Event Organiser, Kathleen O'Hara Farren adds, "I met Lex at a Cultural Emergence training course where we enjoyed singing together as well as sharing practices to help people and projects run smoothly.  It's always heart warming to be in Lex's company." Lex will be one of three artists at the Circle of Wonder painting a work of art, live as we sit in circle.  https://lexingtonlove.com/
Clare McCay is an Irish Japanese artist based in Donegal. She had a degree in visual communication and has a great interest in story telling.  "Clare has a Peaceful Presence and that is core to my intention for the Circle of Wonder - that we all experience Peace and of course enjoyment.  And working with Clare has been a great joy for me.  She is a very talented artist and fun to be with!" says Kathleen O'Hara Farren, event organiser.  Clare has been assisting with creative design and will be one of the three artists working on a piece of art at the event.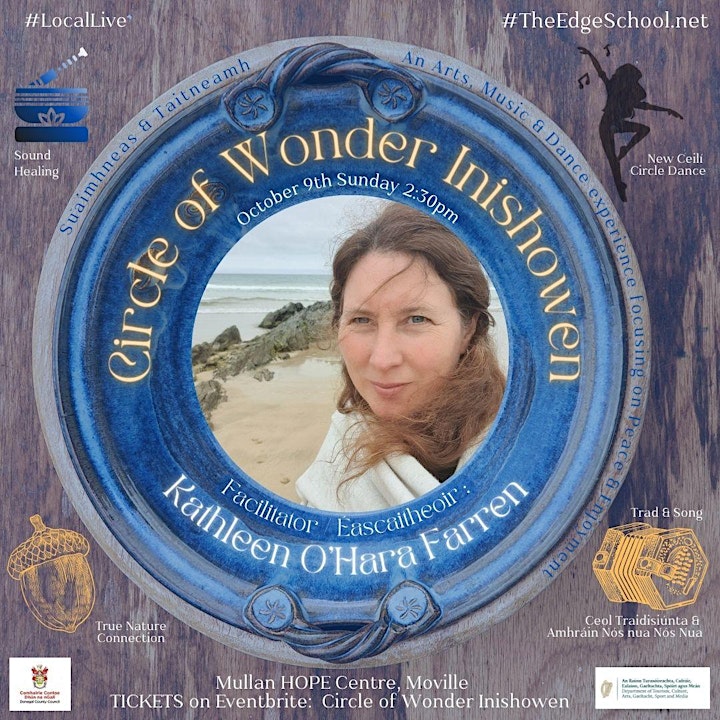 Kathleen O'Hara Farren is a Wellbeing Facilitator and Cultural Creative.  "I'm keen to bring wholesome creative opportunities and experiences to my locality, especially for the youth.  I am thrilled that this event has been awarded generous funds from the Department of Tourism, Culture, Arts, Gaeltacht, Sport and Media supported by Donegal County Council." says Kathleen.
"I  have been living in Inishowen longer than anywhere else that I've lived!  I'm delighted to share the beauty of this place with all who visit and live here.  I'm especially happy to be living near where my father and grandmother grew up.  My husband Brendan and I have brought up our three children on our family farm along the Foyle. We've initiated a few interesting projects here over the years including The Inishowen Summer Gathering, The Inishowen Kindergarten and The Anchor Arts Centre in Moville.  Another community group that I've enjoyed participating with is Celebrate Water.  All of these were great for meeting others in the area and I am sure that The Circle of Wonder will ignite a spark of enjoyment that we will carry into the next season and beyond." shares Kathleen.
All the 'behind the scenes' design work is being done by creatives of all ages.  We have a mentoring policy in The Edge School which really makes learning easy!  Gratitude all around for all the serendipitous happenings that is making this event Wonder-filled!
Ticket info:
You are welcome to choose your ticket type - the funds from these ticket will go to future events and workshops like The Circle of Wonder Inishowen. We are happy to offer you the choice of Contribution (donate) or Complimentary (free)Tickets.
You will be nourished at this quality event. Your financial contribution (for which we are most grateful) will support the next generation and new performers bring more of this kind of event to life in Inishowen! We appreciate all ticket holders. (You may also make donations at the door, as inspired / able)
Just click on the red rectangle with the word 'Register' and choose your ticket.
Where?
The location is in Moville at the Mullan HOPE Centre - where HOPE stands for 'Hub of Positive Energy'. It's a place where community has supported each other over the past couple of years. Our sincere gratitude for Geraldine Mullan (who is now the Community Contributor Individual of the Year Winner (Derry Journal)) for providing the peaceful place for this new event.
Organised by:
This is brought to you by Kathleen O'Hara Farren of The Edge School .net in Inishowen. "With the intention to bring the Colour and Healing Sounds to the area as well as bring more opportunities to the youth here, I received funding for #LiveLocal event supported by Donegal County Council and Department of Tourism, Culture, Arts, Gaeltacht, Sport and Media. With this project, I am returning to work in the local community and am integrating all me experience with Home Education and Self-Care to bring new creative culture to Inishowen. The Inishowen Summer Gathering of 2005, which I initiated, has similarities with The Circle of Wonder. I'm most grateful to all who have given this project such generous support." says Kathleen.