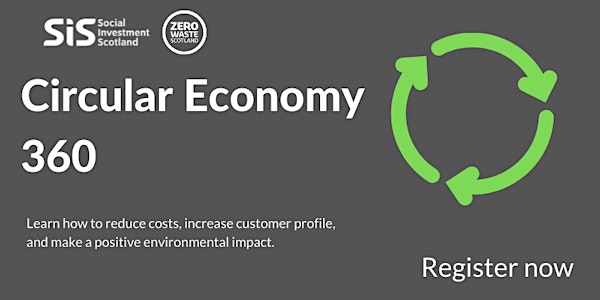 Circular Economy 360 - Action not Jargon
Part of a series of 5 dates designed as a cohort approach looking at your organisations net-zero goals with experts and practitioners.
About this event
Don't let complex carbon calculations put you off. The best thing you can do is take action. Conversations with leading entrepreneurs about the first steps you can take to make a difference to the world around you.
These net zero focussed sessions run with expert speakers and social enterprise practitioners are designed to maximise input, questions and discussion from participants and to work with you on your organisations Net Zero goals. Based on our popular 'academy' format the sessions are interactive and we will work together as a cohort with inspirational speakers also 'popping in' to share their thoughts too.
Focusing on Circular Economy activities the sessions are suitable for all organisations that use stuff, operate a premises or develop products.
With many people unsure where to start on carbon mapping and put off by complex calculation tools, we take a look at where you can start on your Net Zero journey. Simple, practical and designed to help make your first steps easy.
We will be joined by practitioners who have themselves looked at how they can reduce their environmental impact, how they approached their own carbon footprint map and how they got staff and trustees on board.
Your host for all of our sessions is Naomi Johnson, current chair of Circular Communities Scotland
Naomi will be joined by Karis Gill, Founder, Social Stories Club
To find out more on this session and the rest of the series, please visit the Social Investment Scotland website