About this Event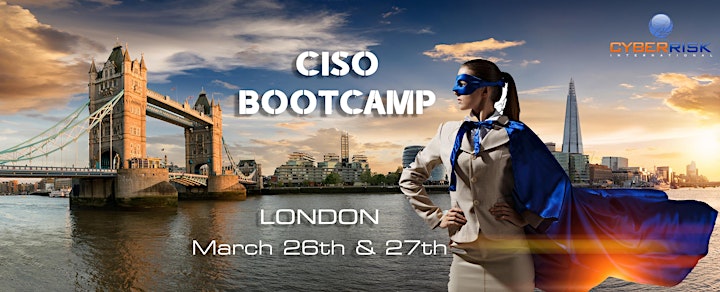 "CISOs are nothing short of being super heroes these days, dealing with the converged challenge associated with cyber threats.
We are running another "CISO Boot Camp" developed specifically for those that have the CISO function responsibility or those that support the CISO function within an organisation."
COURSE OVERVIEW:
The CISO (Chief Information Security Officer) boot camp does not focus on technical knowledge but on the application of information security management principles from an executive management point of view. This course was developed by CISOs for current and aspiring CISOs.
The 2 day course provides tangible, proven and practical approaches for optimising your ability to lead in this dynamic, fast paced, multi-disciplined security, risk and privacy function. The syllabus includes the principles for alignment to the business, risk management and mitigation strategies and how to create a cyber security culture in the business operations.
Aimed at senior security executives, those that aspire to be or have been recently appointed CISO or similar role responsible for cyber risk within an organisation.
COURSE OBJECTIVES – WHAT YOU WILL LEARN
– Understand the Role of a Senior Security Executive
– How to Develop a Security Program's Business Mission
– Practical Approaches to Organisational Design for Immediate Impact
– How to Develop a CISO Framework
– How to Execute a Cyber Strategy
– Understand Cyber Metrics and Assurance Requirements
– How to Develop and Sustain a Cyber Program
COURSE SYLLABUS
Module 1: Business Operations Protection: The Challenge for the Security Executive
– The Future of the Role
– Effective Risk Management
– Operational Excellence is an Imperative
– Understanding the Value Chain
– Key Cyber Management Information
– People, Processes and Technology
Module 2: The Job of the Senior Security Executive
– Cyber Status – Security Risk and Compliance Today
– The role of the CISO
– Creating Your Mission
– Confident Leadership
Module 3: Developing a CISO Framework
– Forget About Standards
– Cyber Inherent Risk
– Risk Relationship with Maturity
– Cyber Risk Management and Oversight
– Threat Intelligence and Collaboration
– Cyber Security Controls
– External Dependency Management
– Cyber Incident Management and Resilience
Module 4: Executing a Cyber Strategy
– Information Security VS Cyber Security
– Corporate Security
– Operational Risk Management
– Controls Assurance and Metrics
– Business Focus
Module 5: Sustainability and Development
– Cyber PR
– Partnerships in Delivery
– Corporate DNA and Human Behaviour
– Your Brand and Career Path
COURSE DIRECTOR: PAUL C DWYER
AUTHOR: THE ART OF CYBER RISK OVERSIGHT
Paul C Dwyer is recognised as one of the world's foremost experts on cyber security, risk and privacy. As CEO of Cyber Risk International he specialises in corporate and enterprise security, development of cyber defence programs, and business operations protection for CRI clients.
Certified an industry professional by the International Information Security Certification Consortium (ISC2) and the Information System Audit and Control Association (ISACA). Approved by the National Crime Faculty and the HTCN High Tech Crime Network. He has worked extensively around the world his diverse career spans more than 25 years working with military, law enforcement and the commercial sector.
ROLES HAVE INCLUDED:
• President of the ICTTF International Cyber Threat Task Force
• Co Chairman of the UK NCA National Crime Agency Industry Group
• Advisor to NaCTSO (National Counter Terrorism Security Office)
• Advisor to NATO on Countering Hybrid Cyber Threats
• Advisor to UK Defence Committee DEFCOM in Parliament
• Deputy Chair – Organised Crime Task Force Industry Group – NI
• Interim Global CISO for Numerous Multi-National Organisations
• Advisor to Numerous Governments and Intelligence agencies
Paul is a member of a number of industry groups including the IoD (Institute of Directors), IIEA (Institute of International and European Affairs) and the IRM (Institute of Risk Management).
As an accomplished serial entrepreneur he has successfully built a number of security practices in the UK & Ireland and in 2016 was identified by Business and Finance as one of Ireland's Top 100 CEOs.
His career started as a technical networking specialist, he then specialised, trained and qualified in a number of disciplines including but not limited to ethical hacking, forensics, international management systems, risk management, business continuity, international governance frameworks, financial service regulations, cyber laws and project mgt.