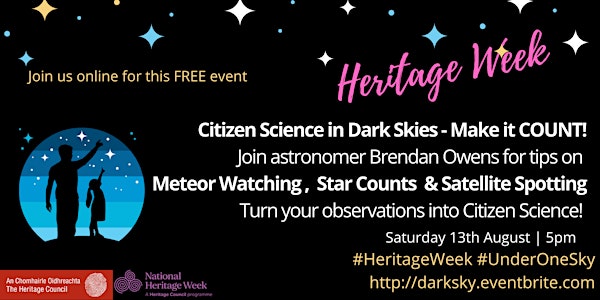 Citizen Science in Dark Skies
Make your night sky observations count - Tips and tools from Astronomer Brendan Owens will help guide you to become a citizen scientist !
About this event
Want to get the family involved in Citizen Science? Join our short webinar with Astronomer Brendan Owens of the Institute of Physics for an informational chat on how to get started and log your observations of the night sky.
Heritage Week coincides with the peak of the Perseids Meteor Shower 2022. We encourage the general public to get out and observe the night sky, counting what they see - Stars / Meteors and even Satellites. Make your observations count by returning what you see to our online survey. That data helps us identify areas of Light Pollution, Satellite tracking activity for a live Science project and the number of visible meteors sighted around the island of Ireland.
To help you know what to look for in the sky, we have teamed up with Brendan Owens, Expert astronomer and Public Engagement Manager at the Institute of Physics. Brendan Owens is a passionate science communicator with a keen interest in and knowledge of astronomy and physics. He will provide some handy tips and tools to help you navigate your way in the sky and where to log your observations.
With this information, you'll be ready to head outside on a clear dark night and start recording what you see. This is an activity for all the family and one you can do any night during Heritage Week or into the future.
Enjoy the Night!
Contact Info:
Dark Sky Ireland
Mayo, Ireland
info@darksky.ie
We are proudly supported by the Heritage Council.