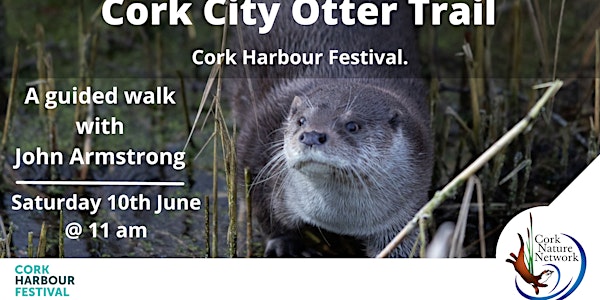 City Centre Otter Walk
A guided walk along Cork City Otter Trail
Date and time
Sat, 10 Jun 2023 11:00 - 14:00 IST
Location
Cork Opera House Emmett Place T12 DW6P Cork Ireland
About this event
Cork Nature Network is delighted to offer a guided walk along the Cork City Otter Trail on Saturday 10th June at 11:00 am. as part of this year's Harbour Festival.
Join us for a fascinating talk and walk led by Cork Nature Network's Campaign Manager John Armstrong. John will talk about otter ecology, the importance of the River Lee for the otters and why we should protect them.
This walk is part of our ongoing Otter Project. You can find out more about our Otter Project here.
Our speaker:
John Armstrong has a degree in Ecology from UCC and has a special interest in science education, the marine and water issues in Ireland. He is the campaigns manager for CNN and represents CNN on the board of SWAN (Sustainable Waters Network.) John works in the education department of Fota Wildlife Park and as a consultant ecologist. He is a mentor for the All Atlantic Ocean Youth Ambassadors.
The meeting point will be in front of the Opera House.
The whole walk will take around an hour and a half and will finish in Fitzgerald's park. Please allow additional time if you need to make your way back into the city centre after the walk. The walk is fairly easy.
Join us to learn more about Cork's secretive mammals.
We look forward to seeing you!
To support Cork Nature Network:
• Become a member: Individual membership is only €10. Concessions €5. Family €20.
• Or make a donation
COVID-19 INFORMATION FOR IN-PERSON MEETINGS
• All attendees of Cork Nature Network events will be required to follow up to date health guidance.
• Some attendees may wish to wear a mask when gathered outdoors as a group.
Please do not attend any Cork Nature Network event if you:
• are experiencing any symptoms of COVID-19 or are feeling unwell.
• are awaiting the results of a COVID-19 PCR or antigen test.
• are self-isolating or restricting your movements.
• have recently been diagnosed with COVID-19. Please consult HSE guidelines regarding testing positive for COVID-19: https://www2.hse.ie/conditions/covid19/testing/positive-result/
• are a recent close contact of a person who is a confirmed case of COVID-19. Please consult HSE guidelines regarding close contacts: https://www2.hse.ie/conditions/covid19/contact-tracing/close-contact/
• have been advised by a doctor to isolate or cocoon.
Privacy Statement
This statement relates specifically to your use of this platform. Eventbrite. Data submitted to this platform is processed by Eventbrite (the "Processor"), an Irish company. Information you submit is managed in a GDPR compliant environment and is not transferred outside of the E.E.A. (European Economic Area). You can read more in the Eventbrite Privacy Policy. Any information which you volunteer via this online platform will be treated in accordance with the General Data Protection Regulations (GDPR) and Data Protection Acts, 1988-2018.Data transferred from the Processor to any Sub-Processors will be treated in accordance with the GDPR and Data Protection Acts, 1988-2018. The sub processors (collectively the "Sub-Processors") engaged in the use of this solution is Cork Nature Network. Additional Information: The privacy statement for Eventbrite can be accessed here.
Cork Nature Network - https://corknaturenetwork.ie/privacy-policy/
About the organiser
The aim of Cork Nature Network is to benefit the community of Cork by promoting and encouraging the conservation of wildlife and habitats in Cork City and County by educating and increasing the awareness of the need for conservation