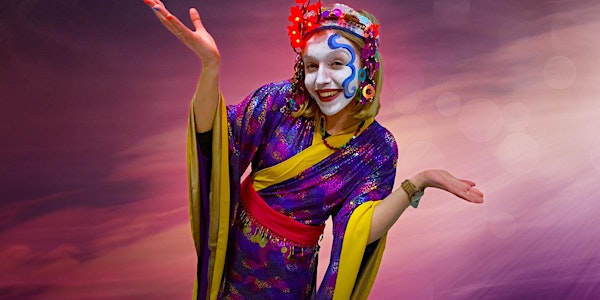 City of Dublin Winter Solstice Celebration Festival 21 December 2020
City of Dublin Winter Solstice Celebration Festival 21 December 2020 Crossing Borders – Self-Care across Communities
About this event
Smashing Times International Centre for the Arts and Equality and Slí an Chroí Holistic Centre are delighted to announce the 11th annual City of Dublin Winter Solstice Celebration Festival taking place on Monday 21 December 2020 from 4-6pm with events happening online.
Come and gather with us on the darkest day, step into the warmth of our online creative events as we welcome the return of the light on this festive and magical night for family and friends to enjoy. You are invited to take part in this year's magical event which we are holding online and outdoors to honour the Winter Solstice on December 21, marking the shortest day of the year which is celebrated worldwide across a range of cultures. Join us for an inclusive gathering of people of all ethnicities and cultures to honour the Winter Solstice and to reach out and connect with others in times of physical distancing.
Our theme this year is Crossing Borders – Self-Care Across Communities. The Winter Solstice is a time to reflect on the importance of empathy and compassion for ourselves and others and our common connections to nature. Many events have, and are continuing to happen, that both divide and bring communities together – the Pandemic, Black Lives Matter and Brexit. Join our artists and panel members as we come together on a cross-community basis to reflect on themes of empathy, compassion, and care for ourselves and the communities around us.
The following creative events are taking place on Monday 21 December 2020.
Winter Solstice Creative Connections for a Brighter Future Panel Discussion and Candle Ceremony, 5-6pm online
Artists and Speakers: Noelle McAlinden, Mary Moynihan, Féilim James, Dr Karen Ward and Kwasie Boyce
Where: Online
When: Monday 21 December, 2020, 5-6pm
Join us for a fun Creative Connections panel discussion to explore and celebrate the 2020 Winter Solstice and the role of the arts and culture to promote creative connections and cultural diversity into the future. Themes for discussion focus on holistic health and well-being; a creative exploration of the Winter Solstice and its relevance in today's changing world; and an exploration and celebration of ancient traditions with current cultural practices in Ireland and globally. Join us as we explore the unique challenges currently being faced by individuals, communities, artists and citizens and how can we use different cultural and social traditions to build hope and creative alliances into the future, opening up newly imagined possibilities and socially engaged alliances in a post pandemic world.
During this event we will launch our Creative Connections for a Brighter Future project to take place in 2021. Creative Connections for a Brighter Future uses creative high quality artistic processes combined with new digital technologies to create a body of work celebrating the arts and peace working with six diverse groups from the island of Ireland. This project is funded by the Department of Foreign Affairs and Trade Reconciliation Fund and is implemented by Smashing Times in partnership with CAIN (Conflict Archive on the Internet) at Ulster University and with a range of community organisations on a cross-border and cross-community basis.
Panel Members
Noelle McAlinden is a Visual Artist, Creative Advisor, Mental Health Campaigner, Curator and Cultural Broker from Northern Ireland.
Mary Moynihan is a Writer, Theatre and Film-Maker and Artistic Director, Smashing Times International Centre for the Arts and Equality.
Féilim James is an award-winning writer and poet and a recent recipient of an Arts Council bursary award.
Dr Karen Ward is a well-known Holistic Psychotherapist and co-founder and co-director of Slí an Chroí Holistic Centre. Karen was involved with RTE's Health Squad and as an Energy Therapist with BBC's Last Resort providing expert advice and guidance on all aspects of holistic health. She co-facilitates the Medicine & Healers Spiral with her husband John Cantwell at Slí an Chroí School of Celtic Shamanism.
Kwasie Boyce is the Founder, Director and Drama Facilitator of M.A.D. Youth Theatre, Dundalk, Co Louth.
Our panel discussion will end with a reflective moment to light a candle in remembrance of all those who have been impacted by the Covid-19 pandemic. Have your own candle or light ready as we mark the 2020 Winter Solstice, reflecting on all that has happened during the past year. Our message is for a brighter future and hope and equality for all as we join in solidarity with our neighbours, friends and strangers in Ireland, Northern Ireland and across the globe.