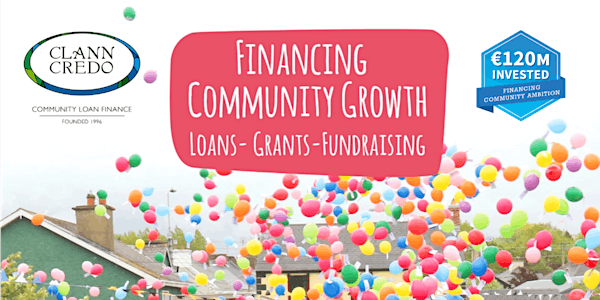 Clann Credo Community Information & Networking Event
When and where
Location
Ferrycarrig Hotel Ferrycarrig Co. Wexford Y35 Y9TA Ireland
Description
Join us for our information and networking event for community groups!
There will be presentations and discussion about:
Fundraising - get new ideas for fundraising in your community
LEADER and County Council Grants - find out what grants are available
Clann Credo Loan Finance - see what loan finance can do in your community
Case Study - find out how Kilktealy Hall Development Group used Clann Credo finance
We are delighted that Liz Roche will be sharing her extensive knowledge of fundraising with us. You will come away with new ideas and renewed energy for your fundraising activities. Liz is a leading philanthropy and fundraising advisor in the Irish Not-For-Profit sector.
Amanda Byrne from the Community Section at Wexford County Council will give information on the community grants they offer.
Mary Dunphy from Wexford Local Development will present information on LEADER grants.
Tony Marshall from Clann Credo will tell you all you need to know about ways to use loan finance for community projects and how to secure your loan.
Noel Curtis of Kiltealy Hall Development group will tell us how they have benefitted from investment by Clann Credo.
And there will be plenty of opportunities to ask questions and network!