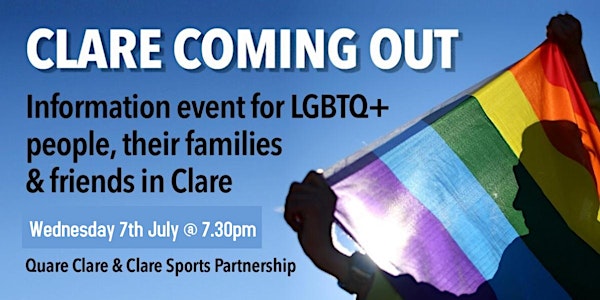 Clare Coming Out — Webinar for LGBTQ+ people, their families & friends
Information event featuring speakers from LGBTQ+ support organisations
About this event
An event to mark Pride Month in Clare organised by the brand new Quare Clare LGBTQ+ group will offer help to communities and organisations on how they can best support the inclusion of LGBTQ+ people. The webinar, on July 7th at 7.30 pm, will be of interest to LGBTQ+ people living in Clare, their families and friends and anyone who wants to support LGBTQ+ people in their community.
The information event, which is supported by Clare Women's Network, Clare Local Development Company, Clare PPN, the Midwest Rape Crisis Centre and Clare Sports Partnership, will feature speakers from Belong To, GOSHH and LINC, three of the key support and community organisations available to LGBTQ+ people and their families in Ireland.
An online survey conducted by Quare Clare in March highlighted an urgent need for supports and services for the LGBTQ+ community Clare. 80% of people who responded said they would like more connection with other LGBTQ+ people in the county and this webinar is part of a series of social and information events planned by the group for 2021.
Belong To is a national organisation that supports lesbian, gay, bisexual and trans young people in Ireland. GOSHH! (Gender, Orientation, Sexual Health and HIV) is based in Limerick but also works to support LGBTQ+ people in Clare. LINC is based in Cork and advocates for Lesbian and Bisexual Women in Ireland.
Anyone from the LGBTQ+ community in Clare who would like to get involved in Quare Clare can email lgbtq.clare@gmail.com to find out more.
Quare Clare was established as part of a short-term project initiated by Clare Public Participation Network, Clare Women's Network, Clare Local Development Company and Rape Crisis Midwest, and supported by The Department of Rural and Community Development and Clare County Council.  They are delighted to be joined for this event by Clare Sports Partnership.