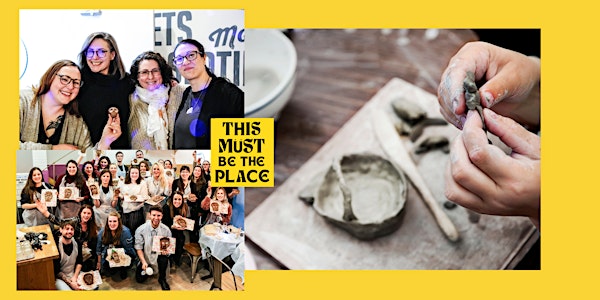 Multiple dates
Clay and Coffee: Make Your Own Pot Person (Includes Tea and Coffee)
Create your own clay pot person with no experience necessary. Tea or coffee included. Hand building clay art event with music and craic!
Date and time
Sun, 20 Nov 2022 14:00 - Sun, 27 Aug 2023 16:00 GMT
Location
This Must Be The Place 51 Wellington Quay D02 NH04 Dublin Ireland
Refund Policy
Contact the organiser to request a refund.
About this event
2.30pm is SOLDOUT FOR SUNDAY.
We have spaces at 11.30am and 6pm
11.30am https://www.eventbrite.co.uk/e/clay-and-coffee-make-your-own-pot-person-includes-tea-and-coffee-1130am-tickets-467484557897
6pm
https://www.eventbrite.co.uk/e/clay-and-coffee-make-your-own-pot-person-includes-tea-and-coffee-tickets-572992695577
Create your own pot person while enjoying some tea/coffee in our art studio in Temple Bar.
This isn't an art class it's an art party!
In under 90 minutes participants will create two clay pieces.
This event is designed for complete beginners with no experience necessary. We do not use any machinery and this is all hand building with air dry clay.
WHAT TO EXPECT?
Expect music and surprises.
There is UNLIMITED tea or coffee & biscuits included for everyone attending.
THE RULES
This is over 18s. Our studio is a place for adults to socialize.
No alcohol is allowed on premises. This is a sober premises but check out our other events on Alternative Dublin to see our wet events.
Please note we do not have the ability to kiln fire pottery, each piece will dry naturally. These pots are not suitable for flowers or water.
DO YOU DO PRIVATE EVENTS?
Yes we host lots of private events we can host them in our studio or at your office or a partner venue. We've hosted events for dozens of companies.
ARE YOU THE SAME PEOPLE FROM IRELAND AM?
Yes we were recently featured on Ireland Am and yes there was confusion with the name.
IS THERE REALLY UNLIMITED TEA, COFFEE AND BISCUITS?
Yes there is a coffee machine in the kitchen and about 6+ different types of biscuits. The kitchen is self service and you can eat and drink until your heart is content.
WHAT DO WE DO DURING THE WORKSHOP? DO WE HAVE TO FOLLOW ALONG?
Our workshops are super informal, this is not a strict class, we have an instructor to guide you along but this is a very basic beginner event for you to experiment and have fun. We reward creativity and encourage everyone to create something different.
IS IT WHEELCHAIR FRIENDLY?
Unfortunately not, we don't have a lift or a ramp and we are on the second floor. Very sorry about this we really hope to open our next place on ground floor. Our sister company Drink & Draw run events at least twice a month in wheelchair accessible venues.
I HAVE NEVER HEARD OF THIS MUST BE THE PLACE, WHERE IS IT?
That's ok we're new and fresh to Dublin, we are located at the Ha'penny bridge inside The Clockwork Door at 51 Wellington Quay. Our studio is accessible only by tickets and we don't accept walk-ins.
WHAT SHOULD I WEAR?
Clay is messy avoid white clothes and get ready to roll up your sleeves. Dark clothing is advisable if you are going anywhere afterwards and make sure to wipe clay off then machine wash :)
I HAVE A YOUNG CHILD OR TEENAGER CAN I BRING THEM?
Unfortunately not, we do not host events for children this space is for 18+ we want to create a place where adults can behave like children and get creative.
CAN WE LEAVE OUR PIECES THERE?
We don't have capacity to keep the pots as our studio is open 7 days a week we give everyone a bag to put their masterpieces in.
THE EVENT SAYS SOLDOUT, CAN MY FRIEND COME?
Unfortunately not, if an event is soldout it means there are no seats left. The event is every Sunday!
I'M GOING TO BE LATE, CAN I STILL COME?
Yes we don't usually start exactly on time. Due to a large volume of people arriving at once it usually starts atleast 10 minutes after the time on the event. If you're really late just come in and don't worry.
About the organiser
Do something different and discover a different side to Dublin.
We host over 20 different events and send out a weekly event guide to Dublin.