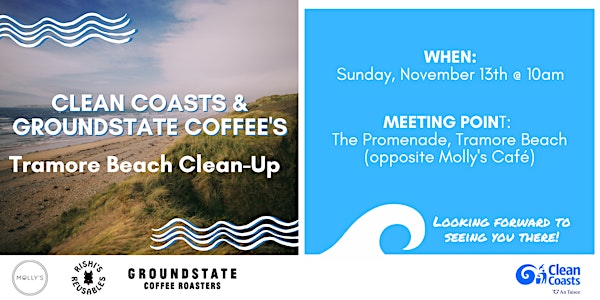 Clean Coasts and Groundstate Coffee | Clean-Up Event of Tramore Beach
Clean Coasts and Groundstate Coffee | Clean-Up Event of Tramore Beach
When and where
Location
Tramore Beach Tramore West Tramore Ireland
About this event
Clean Coasts are teaming up with coffee specialists, Groundstate Coffee, for a clean-up event at Tramore Beach on Sunday the 13th of November where they are inviting Waterford based groups and volunteers to join them in doing their part in keeping the Irish sea litter free!
Groundstate is a cafe roastery based in the Liberties, Dublin 8 with an aim to build something authentic and sustainable. They source and roast exceptional quality single origin coffee beans working in partnership with small growers and specialty importers searching for interesting and unusual lots and roast. All their coffee is roasted in small batches using fluid bed roasting technology.
Minimising environmental impact is key to their project. Their packaging is 100% compostable and/or recycleable. Groundstate already donate 1% of their annual sales to Clean Coasts to help them maintain a clean coastline.
Groundstate coffee's founders, Andy Joyce and Mark Quilty, have stated;
"Here at Groundstate we have decided to offset some of our carbon footprint by teaming up with Hometree to plant native Irish trees. Hopefully we will be carbon neutral someday but until then we will keep doing our very best to keep Groundstates environmental impact to a minimum."
Tramore Beach is famous for it's busy summer season. The area has held a Blue Flag since 1993 and is also a popular destination for swimming, bathing and water sports with a lifeguard on duty throughout the bathing season. The natural beauty of the area coupled with the long rolling waves and sandy beach means it attracts tourists, locals and water sport enthusiasts year-round with groups like Tramore Eco Group and Tramore Tidy Towns doing their part weekly to ensure that litter dropped during the bust periods doesn't make its way to the sea.
Clean Coasts and Groundstate Coffee will be meeting volunteers at the promenade opposite Molly's Café on Tramore Beach at 10am. Attendees are advised to arrive 15 minutes before to avoid delays. After the event coffees will be provided by Groundstate coffee via Molly's Café for everyone to enjoy!
To express your interest in joining the event click that you will be attending on this Eventbrite page!
If you have any further questions about this event please email alawless@eeu.antaisce.org or phone 0879065979