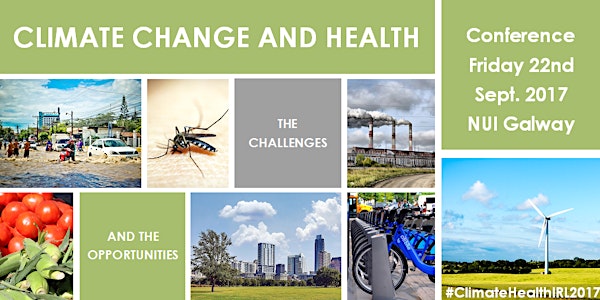 Climate Change and Health: The Challenges and Opportunities
Event Information
Location
Institute for Lifecourse and Society
Upper Newcastle Road
National University of Ireland, Galway
Galway
Ireland
Refund policy
Refunds up to 7 days before event
Description
Climate change is "The greatest threat to global health in the 21st century"*. The direct and indirect impacts of climate change threaten to hinder progress in global health and destroy some of the gains made over the last 150 years. As always, it is the most vulnerable including children, who bear the brunt of these threats. [*Costello et al., Lancet, 2009]
There is now an urgent need to discuss and plan action to address the challenges, and also the opportunities, which we now face in relation to climate change and health. NUI Galway will host a new conference: Climate Change and Health: The Challenges and Opportunities, on Friday 22nd September 2017, in partnership with the Irish Forum for Global Health, the Development Studies Association of Ireland, the Health Services Executive, the Ryan Institute, Trocaire, the Irish Forum for International Agricultural Development, Cultivate, and Galway City Community Network, with support from Irish Aid.

This exciting one-day conference will firstly raise awareness of the issue of climate change and health to a wide stakeholder group in Ireland. Secondly, it will facilitate the networking of stakeholders who have an interest in and a responsibility with respect to climate change and health. Third, the conference will help generate momentum to establish advocacy positions and actions in response to the threats and opportunities posed by climate change focusing on developing countries and Ireland.
Invited climate change expert speakers include:
Dr. Nicholas Watts,

Executive Director

, Lancet Countdown: Tracking Progress on Health and Climate Change

Joni Pegram,

Senior Policy and Advocacy Advisor

, UNICEF UK

John O'Neill,

Principal Officer

, Dept. of Communications Climate Action & Environment, Govt. of Ireland

Dr. Ina Kelly, Consultant in Public Health, HSE
Dr. Jonathan Derham, Head of Climate, Research, and Resource Use Programme, Environmental Protection Agency
(Additional speakers tbc.)
All are invited to attend, and the conference will be of particular interest to researchers, students, policymakers, and members of civil society organisations and NGOs working in the intersecting areas of climate change and health. Don't forget to keep up with news and conversations around the conference and climate change in general on Twitter, using the hashtags #climatehealthirl2017, #SDGChallenge, #ClimateChange, and #GlobalHealth.


Speaker profiles:

Dr. Nicholas Watts is a medical doctor, and is the Executive Director of the Lancet Countdown: Tracking Progress on Health and Climate Change
. The Lancet Countdown is the successor to the 2015 Lancet Commission on Health and Climate Change, and works to ensure that global responses to climate change include public health as a necessary focus.
Please click here
to watch Dr. Watts' recent lecture for the
#UnmaskMyCity
campaign.
[Image via Medact.]
Joni Pegram is the Senior Policy and Advocacy Adviser on Climate Change at UNICEF UK
. Her work focuses on the impacts of climate change on child rights, as well as child rights-based approaches to climate action and solutions. Joni has in the past worked as a consultant to the United Nations Environment Programme, in addition to posts at the European External Action Service and the UK Government's Foreign and Commonwealth Office.
Please click here
to visit her Twitter profile for latest updates.
[Image via LinkedIn.]
John O'Neill is the Principal Officer at the Government of Ireland's Department of Communications, Climate Action and Environment
. He has the responsibility to influence and coordinate development of Ireland's national policy and response to climate change, as well as managing the country's engagement in EU and international responses.
[Image via gov.ie.]
Dr. Ina Kelly is a Consultant in Public Health Medicine in Cork
, and is a member of the Consultants in Public Health Medicine Environment and Health Group, contributing to the national radon control strategy.
[Image via Irish Medical Times]
Dr. Jonathan Derham is the head of the EPA's Climate, Research, and Resource Use Programme
, and has extensive experience working in both public and private sectors in Ireland and the UK. He is the Chair of the National Waste Prevention Committee, and is Ireland's representative on a number of EU Resource Efficiency related working groups.
Please click here
to see him presenting findings from the State of the Environment Report at the end of 2016.
[Image via CONSENSUS.ie]
---
*** Special partners event announcement ***
We are delighted to announce that Climate Change and Health: the Challenges and the Opportunities has partnered with Cultivate and others to synergise with a special event taking place on the evening of Thursday 21st September, from 19.30-21.30, at the PorterShed in Galway:
STORIES AND CONVERSATIONS FOR A HEALTHY AND LOW-CARBON GALWAY CITY aims to inspire increased engagement in community-led initiatives, social enterprises, climate actions and wellbeing projects. A scene-setting presentation framing local action in the Sustainable Development Goals will be followed by a number of local projects telling their own story. A facilitated cafe conversation will be hosted to bring a deeper understanding of common ground and actions that might enable more local initiative. The final element of the evening is a presentation from Paul Allen, a Director at the Centre of Alternative Energy in Machynlleth in Wales and the editor of Zero Carbon Britain report, who will share the lessons and explore how we might catalyse change in Galway.
This event is organised Cultivate in partnership with An Áit Eile, Third Space, Galway City Community Network and supported by the EPA, Galway City Council and the Department of Communications, Climate Action and Environment.

Date and time
Location
Institute for Lifecourse and Society
Upper Newcastle Road
National University of Ireland, Galway
Galway
Ireland
Refund policy
Refunds up to 7 days before event