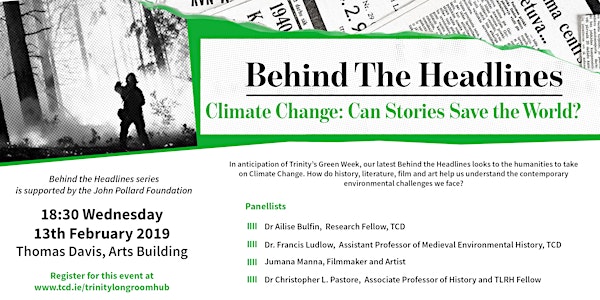 Climate Change: Can Stories Save the World?
Event Information
Location
Thomas Davis Theatre
Arts Building
Trinity College Dublin
Dublin 2
Ireland
Description
Behind the Headlines on Climate Change: Can Stories Save the World?
In anticipation of Trinity's Green Week, the Trinity Long Room Hub's latest Behind the Headlines looks to the humanities to take on Climate Change. How do history, literature, film and art help us understand the contemporary environmental challenges we face?
As scientists warn us of the consequences of our human impact on the environment, the arts help us visualise the consequences of climate change and natural catastrophe, eliciting emotional responses that prompt action. By looking to the past, we can understand historical examples of conflict and climate and the unintended consequences brought about by attempts to mitigate the effects of climate warming.
This multi-disciplinary and international panel will examine cultural interpretations of global environmental issues and disaster; bio-technology and geopolitics; climate and conflict in the ancient period as well as early modern narratives of climate change, when people still didn't believe.

Ailise Bulfin - Research Fellow, TCD
Dr Ailise Bulfin is a literary and cultural scholar whose research explores the dark side of the human imagination from the nineteenth-century to the present day, particularly focusing on representations of catastrophe, war and trauma. She has published a number of critical essays on topics such as contemporary catastrophe narratives and climate change, and Victorian depictions of natural and environmental disaster. She is an alumnus of Trinity's School of English and the Trinity Long Room Hub and currently works as a Medical Humanities Research Fellow in the School of Medicine at Trinity College Dublin.
Francis Ludlow - Assistant Professor of Medieval Environmental History, TCD
Frank Ludlow is Assistant Professor of Medieval Environmental History in the Department of History, Trinity College Dublin. He has previously been a Marie Sklodowska-Curie Individual Fellow, 2016-2018, in the Department of History, Trinity College Dublin, a Postdoctoral Fellow in Yale University (2013-2016), a Carson Fellow at the Rachel Carson Center for Environment and Society at LMU Munich (2013-2014), an Environmental Fellowship at Harvard University (2011-2013), and a Pre- and Postdoctoral Fellow in the Trinity Long Room Hub, Trinity College Dublin (2009-2011).
Jumana Manna – Filmmaker and Artist
Jumana Manna is a Palestinian artist working primarily with film and sculpture. Her work explores how power is articulated through relationships, often focusing on the body and materiality in relation to narratives of state building and histories of place. Her film 'Wild Relatives' features as the Douglas Hyde's latest exhibition and is the story of seed preservation in the face of war and climate change. Manna's work has been screened and exhibited internationally and she is the recipient of the New:Visions Award from CPH:DOX, 2018, ars viva Prize for Visual Arts 2017, Sandefjord Kunstpris, 2015, and the A.M. Qattan Foundation's Young Palestinian Artist Award 2012.
Christopher Pastore - Marie Skłodowska-Curie COFUND Fellow, Trinity Long Room Hub
Christopher Pastore is a Marie Skłodowska-Curie COFUND Fellow at the Trinity Long Room Hub and Associate Professor of History at the University at Albany, State University of New York, where he teaches courses in environmental history, early America, and the Atlantic world. He holds a Ph.D. in American History from the University of New Hampshire, an M.F.A. in nonfiction Creative Writing from New School University in New York, and a B.A. in Biology from Bowdoin College. He is the author of Between Land and Sea: The Atlantic Coast and the Transformation of New England (Harvard University Press, 2014) and is currently writing an environmental history of the seas from the ancient period to the present titled A Thousand, Thousand Slimy Things: A Natural History of Our Once and Future Seas.
The Trinity Long Room Hub Behind the Headlines series is supported by the John Pollard Foundation.

To find out more about the Behind the Headlines series, click here.
Date and time
Location
Thomas Davis Theatre
Arts Building
Trinity College Dublin
Dublin 2
Ireland