Location
Liberty Hall
Eden Quay
Dublin 1
Dublin
Ireland
Description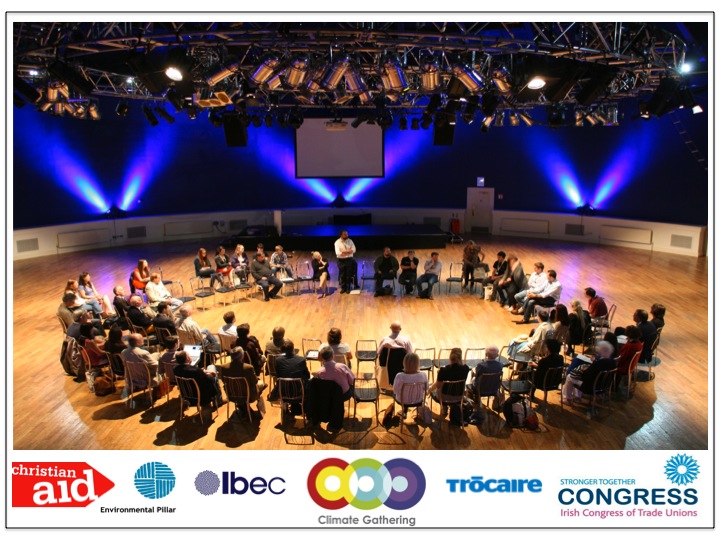 Climate Conversations 2015 Launch Event : Communicating the Challenge
7pm Liberty Hall 18th March

This event is the first of a series of five "Climate Conversations" which aim to bring Ireland together for a new understanding of climate change. The Climate Conversations aim to promote greater understanding of what a low carbon future might bring for Ireland.
The first discussion is our launch event: Session I "Communicating the Challenge" which will take the format of a panel style discussion with room for audience participation and even art and music. Ryan Meade (Climate Gathering) will be chair for the first event and speakers on the panel will include:
George Marshall, author of ''Don't Even Think About It: Why Our Brains Are Wired to Ignore Climate Change'' and founder of the Climate Outreach Information Network

David Begg, general secretary of the Irish Congress of Trade Unions

Claire O'Connor, former international director for Vice President Al Gore's Alliance for Climate Protection

Oisín Coghlan, Friends of the Earth


Terry Prone, Business Woman, Media Expert, Popular Commentator and Author



The collaboration between organisations focused on economic development, labour rights and social and environmental justice is symbolic of the greater cooperation we will need to change our response to the issue. We seek to understand what cultural and social changes are needed, what costs and opportunities may arise and what economic model will best serve all our needs in making this transition.
This is why everyone needs to be in the conversation, not just the institutions supporting this initiative but every institution and every citizen with an interest in the future of this island and this planet. We want to provide a safe space where different views can be expressed and shared.
We will be inviting people to engage with and comment on the discussion online using #climateconversations.
The subsequent events are as follows, more details to follow.
Session II "A New Economy" 7pm 26th March 2015 - The Stanley Quek Hall in the Trinity College Dublin Biomedical Sciences Building - Register for Session II here!


Session III "The Sustainable Use of Our Land" 7pm 8th April 2015 - Guinness Storehouse

Session IV "Prophetic Voices" 7pm 20th April 2015 - Christ Church Cathedral


Session V "The Call to New Horizons" 7pm 10th May 2015 - The Abbey Theatre
Live Web Cast
If you cannot attend in person don't worry, each of the Climate Conversation sessions is being broadcast live on the web. To view this session please visit climategathering.org.