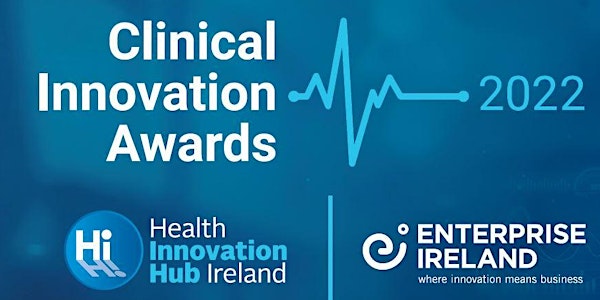 Clinical Innovation Award 2022- Q&A Session
Clinical Innovation Award 2022 Weekly Information Sessions
About this event
Each week we will be joined by guest speakers to discuss the Clinical Innovation Award. You will have the opportunity to learn more about the application process and requirements, hear from previous successful applicants, how to engage with a university and find out about the supports they provide and much more.
Speakers to be Announced Soon
Date: Friday 26th August 2022
Time: 13:00-13:45pm
Location: Online. A Zoom link will be sent to you upon registration
Overview of the Clinical Innovation Award 2022
Enterprise Ireland (EI) in partnership with the Health Innovation Hub Ireland recognise the importance of clinical innovation to address current unmet clinical needs for patients and staff within the healthcare system and wider medtech sector.
The HIHI Clinical Innovation Award is designed to support all healthcare professionals in Ireland to explore the commercial feasibility of their innovative ideas with the potential to transform the way medical care is delivered in Ireland and abroad.
The Award welcomes innovative technologies at all stages of development from concept, early stage research through to more advanced projects.
Prizes
Three applicants will each win a €15,000 Enterprise Ireland Commercialisation Fund Feasibility Grant to investigate the commercial feasibility of their innovative idea in Ireland and international markets.
Winners will be announced at EIs Big Ideas Event in October.
Winners will have an opportunity to engage with the Clinical Entrepreneur Programme in the NHS.
Closing date 26th August 2022
Please engage with your nearest HIHI to find out more or to get advice on the competition
Galway: Contact Steve at steven.griffin@nuigalway.ie
Dublin: Contact Sinead at OCONNS71@TCD.ie
Cork: Contact Mike at michael.twomey@ucc.ie