Event Information
Location
Edmund Burke Theatre
Trinity College Dublin
Dublin
Ireland
Description
There are few more emblematic dates in Irish history than that of the Battle of Clontarf, fought on Good Friday, 1014, when the high-king Brian Boru lost his life in the hour of victory against his Scandinavian and Irish foes.
To mark the 1000th anniversary of Clontarf and of Brian's death, a major international conference of academic experts will be held on 11-12 April 2014 in Trinity College Dublin (in the Edmund Burke Theatre, one of the largest university lecture-theatres in Ireland). Uniquely, the conference brings together all of the leading experts in the field from universities throughout Ireland, Great Britain, and further afield, including the Universities of Utrecht and Helsinki, as well as specialists from the National Museum of Ireland and elsewhere.
The objective of the Clontarf 1014-2014 conference is to establish the truth of what really happened at Clontarf for a twenty-first century audience. The methodology is explicitly interdisciplinary. For the first time all the world's leading authorities on the subject from the fields of Irish history, Scandinavian history, Celtic studies, and archaeology, will be brought together in one public forum. This will be a unique opportunity to re-evaluate the significance of Brian Boru, the high-kingship of Ireland, and the impact of the Vikings on Ireland in the light of the cutting-edge research.
This conference will also bring the Battle of Clontarf into the realm of public discourse, raising public awareness of the millennium, dispelling (or perhaps reconfirming) myths, and shedding new light on the significance of 1014 in Ireland's historical development.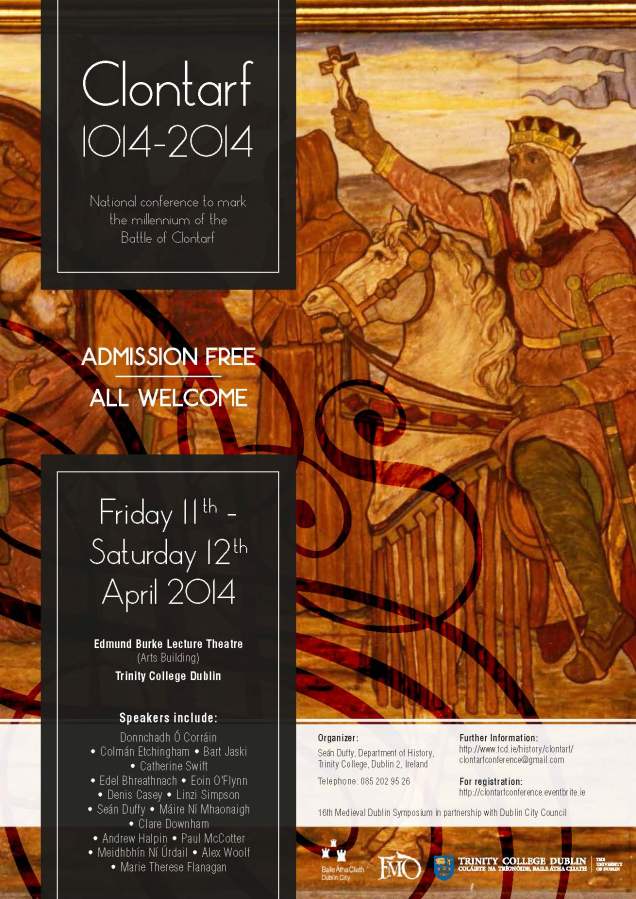 For more information and for the full program, check out our website: http://www.tcd.ie/history/clontarf/
and to contact us email: clontarfconference@gmail.com
Date and time
Location
Edmund Burke Theatre
Trinity College Dublin
Dublin
Ireland