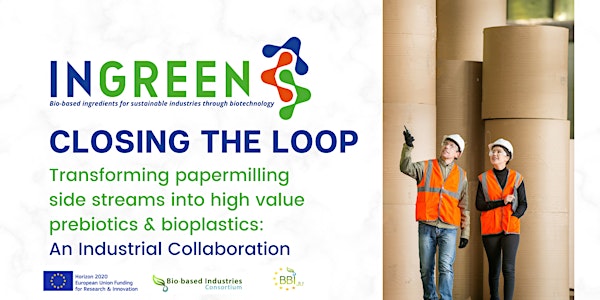 Closing the Loop: A Biobased Industrial Collaboration
Closing the Loop – Transforming paper milling side streams into high value prebiotics and bioplastics: An Industrial Collaboration
By Munster Technological University
Date and time
Tue, 15 Mar 2022 04:30 - 05:45 PDT
About this event
INGREEN is an EU-funded project designed to develop bio-based ingredients for sustainable industries through biotechnology.
This event is part of the INGREEN series showcasing key project developments from consortium partners Innoven, Smurfit Kappa, NovaID, Tecnopackaging and Avecom and is hosted by project partner Munster Technological University. We will take you on a journey from initial identification of the paper milling waste to value opportunity, including the process of validating and prototyping of high quality bioactives which has led to the creation of scalable and sustainable value chain solutions for the feed and packaging industries.
One of the aims of INGREEN is to develop sustainable demonstration scale biorefineries to produce biomasses enriched in PHA from paper milling wastewater. The PHAs can be used as prebiotics for animal feed and as building blocks for bioplastics.
Current Global Perspective:
The pulp and paper industries are ranked as the world's third largest consumer of water producing high volumes of organic rich wastewater. The INGREEN project seeks to transform these wastes through the recovery of useful compounds and the conversion into value-added products.
To improve the environmental impacts of the novel technologies developed in the project, INGREEN will reduce the use of toxic solvents by developing eco-friendly extraction and purification methods that employ the use of bacteria. This will achieve a more sustainable process that fully exploits the potential of paper milling side streams to produce PHA with a high purity grade.
Speaker Line up followed by Panel Q&A:
Event MC : Dr Helena McMahon - Munster Technological University
INNOVEN: Jesùs R Gamero - 'Polyhydroxyalkanoate (PHA): The future substitute for synthetic plastics?'
SMURFIT KAPPA ITALY: Luca Santarlasci - 'PHA-enriched Biomass Production: Paper Mill Waste Water, Pilot Plant Description, Biomass Production Process'
NOVAID: Nídia Lourenço - 'PHA recovery from mixed microbial cultures using green approaches'
TECNOPACKAGING: Irene Serrano - 'Production of PHA biodegradable film for bag-in-box- products'
AVECOM: Kim Wendey - 'Use of PHA in feed : Characterization and use of microbial biomasses for feed applications'
INGREEN works in partnership with organisations from the agricultural, food and industrial sectors to create the market introduction of innovative bio-based processes and bioproducts.
https://ingreenproject.eu