Join us on a relaxing forest walk through Berlin's outskirts, along the sandy shores of the Havel from Wannsee to Pfaueninsel.
About this event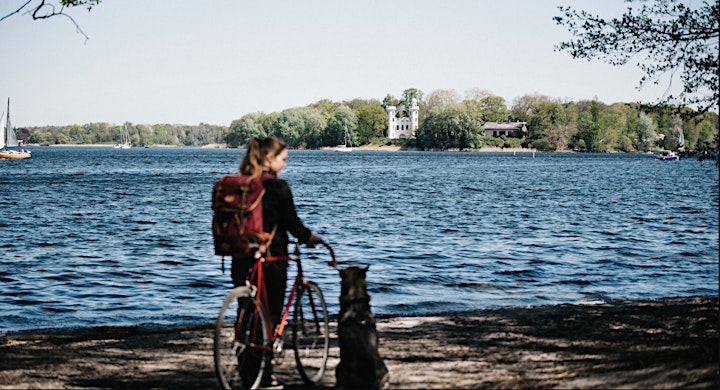 Networking Day Trip for Sales Professionals (free)
We'll be departing from Wannsee Bahnhof to the the beautiful Pfaueninsel on Saturday, July 31st at 11:30 CEST
Let's enjoy the nature, the good weather and have a great conversation while walking along the coast of the Havel.
Meeting Point: S-Bahnhof Wannsee
Walking Route: Wannsee Bhf > Liebermann Villa > Flensburger Löwe > Badestelle Alter Hof > Anlagestelle Pfaueninsel > Ferry to Pfaueninsel (4 EUR) > Pfaueninsel > Bus 218 back to Wannsee Bhf.
Berlin Wannsee and Bus 218 is in the zone Berlin AB. The ferry is not run by BVG so you'll need to buy an additional ticket (around 4 EUR) if you want to enter the island.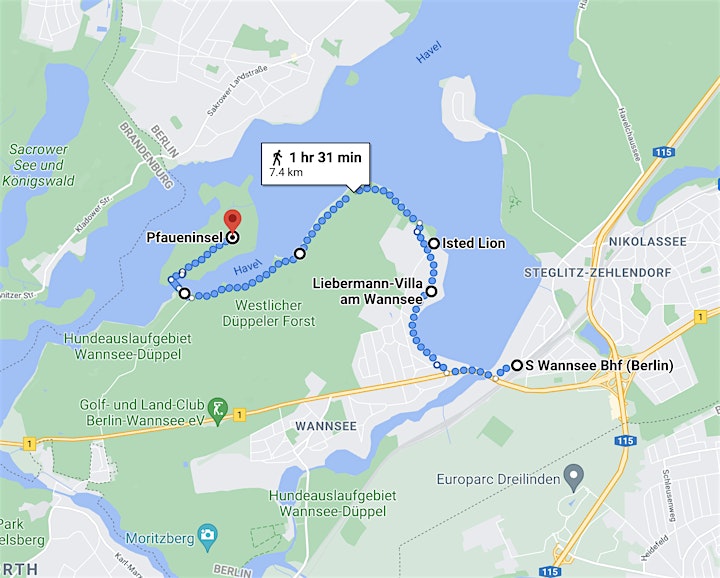 About Pfaueninsel
The island has largely retained its intended character as an idyll of nature: in addition to several free-ranging peacocks, other native and exotic birds can be found, complemented by a rich variety of flora. The entire island is designated as a nature reserve and since 1990 has been a UNESCO World Heritage Site, along with the several other castles and parks in the Potsdam/Berlin area. It can only be reached by a small ferry but is a popular tourist destination.
What to bring & info: make sure to bring water and food with you and the "usual" things which you would bring on a half-day hiking trip (sun cream, good shoes, money, BVG ticket, mask etc.) We'll pass by public toilets (limited number), cafes and restaurants along the way. Please respect the wildlife and other visitors. Don't leave any trash behind.
Distance: approximately 10 km, mainly flat. We'll have a couple of breaks on the way.
About Club 100 B2B
We are a network of enterprise sales professionals and organize regular B2B sales events in Berlin
We share knowledge to help you learn from others and make new connections!
Our events are limited to a small group of people allowing you to have quality conversations in a nice and friendly atmosphere.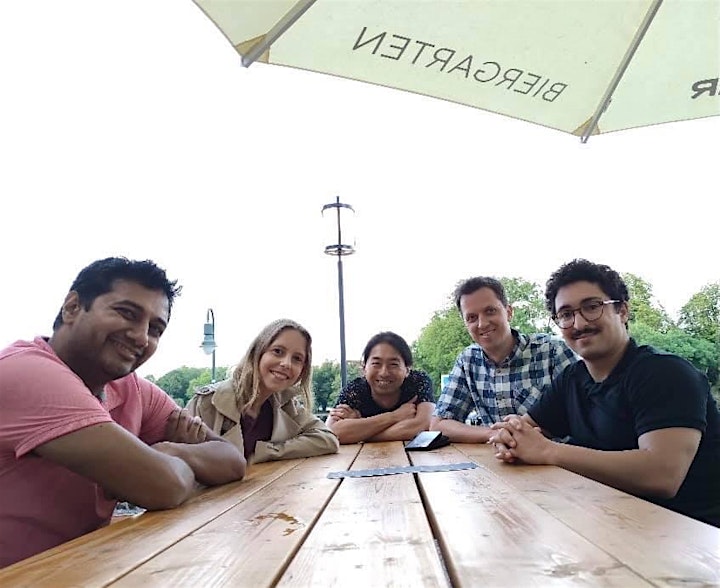 FAQ
1. Who is this event for?
This event is aimed for B2B Sales professionals. In order to maximize the networking opportunity and in the interest of the event, the number of participants are limited. For this event you are also welcome to bring your friend(s) or family member(s).
2. How will I find you? Where is the meeting point?
We'll meet at S-Bahnhof Wannsee at 11:30 AM on Saturday, July 31st. Our group will be waiting just outside the train station next to the taxi stands and shops.
Once registered, we'll also send you further instructions about the event and our contact details.
3. Where can I find more information about Pfaueninsel?
Please read more about the island and the current corona restrictions/regulations. https://www.spsg.de/schloesser-gaerten/objekt/pfaueninsel/
Please respect the wildlife and the nature and do not leave any trash behind. To enter the island, we'll take a ferry. The ticket costs 4 EUR (BVG ticket not valid), please bring change accordingly.
4. Can I bring my friend?
For this event you are welcome to bring your friend(s) or family member(s). We have limited places available, so please make sure to sign up early.
5. What if I am late?
Please check the train schedules in advance in order to be on time. Once registered, we'll share our contact details with you so that you catch us on the way (we'll take breaks).
6. What if I no longer can come?
If for whatever reason you can no longer attend, please inform us in advance (48 hours prior to the event) so we can add someone else from the waitlist. You can cancel your ticket via the app or send us an email to club100b2b@gmail.com
7. Why do you need my contact details?
Due to the current corona virus regulations we need to collect contact information from every participant. If you are not willing to give us these details, unfortunately you can't attend our event. Wearing a mask may be obligatory in some areas (public transport, ferry, cafes etc.) Please follow the instructions/rules and speak to our team if you are unsure about the rules.
8. I signed up for the event but I didn't get the confirmation.
If you haven't received a confirmation, the event may be already full. Alternatively contact us via email (club100b2b@gmail.com).
Event is subject to change based on weather conditions. You participate at this event at your own risk.
Organiser of Club 100 Networking - Scenic Walk from Wannsee to Pfaueninsel