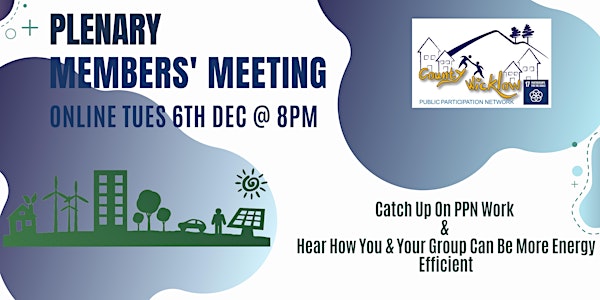 Co. Wicklow PPN Plenary (End of Year Members' Meeting)
Catch up on the work & plans of the PPN and find out about how you & your group can be more energy efficient
About this event
The initial section of the meeting will be devoted to updating our members about our work and finances as well as providing you with an opportunity to steer our work and ratify new PPN Representatives and Policies.
The remainder of the meeting will be devoted to hearing about:
How You & Your Group Can Be More Energy Efficient
our guest speakers are:
• Simon Whelan, MSc MEI Chartered Energy Master & Sustainable Energy Committee Mentor for Wicklow
• Jim Callery, Environmental Awareness Officer Wicklow County Council
To finish there will be our annual Christmas fun quiz.
We look forward to welcoming you and other members of your group to our final event of 2022.