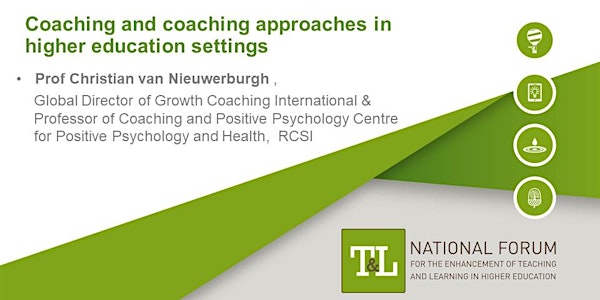 Coaching and coaching approaches in higher education settings
This session will provide insights into the application of coaching in higher education settings to promote student success.
About this event
Presented By
Prof Christian van Nieuwerburgh, Global Director of Growth Coaching International & Professor of Coaching and Positive Psychology Centre for Positive Psychology and Health, RCSI
Seminar Description
Coaching is about creating the right environment so that people can think, grow, and develop for themselves (van Nieuwerburgh, 2020). In the Higher Education context, the potential of coaching to enhance student success and wellbeing is currently being uncovered (van Nieuwerburgh, 2020). As such, the visibility and prominence of coaching in Higher Education contexts is increasing and this coincides with significant momentum in the development and application not only of coaching programmes, but in the application of coaching approaches and positive psychology in educational settings.
This seminar will provide participants with an opportunity to hear from a thought leader in the area of coaching in educational settings and to discuss coaching as it is can be applied in their own contexts. Through it, attendees will gain insights into how coaching can contribute to student success through the structured development of learner agency and self-efficacy.
Christian will share his experience of applying coaching in educational settings across a number of countries and will introduce a Global Framework for Coaching in Education, developed alongside colleagues Jim Knight and John Campbell. The model centres students' success and wellbeing through a range of activities aligned to themes such as Student Experience, Educational Leaderships, Community Engagement and Professional Practice.
Those who participate in this seminar will gain an understanding of:
How coaching is being and can be applied in higher education settings.
How coaching approaches can be applied to promote student success.
How coaching and mentoring can be leveraged to enhance HE learning environments for students.
Presenter Biography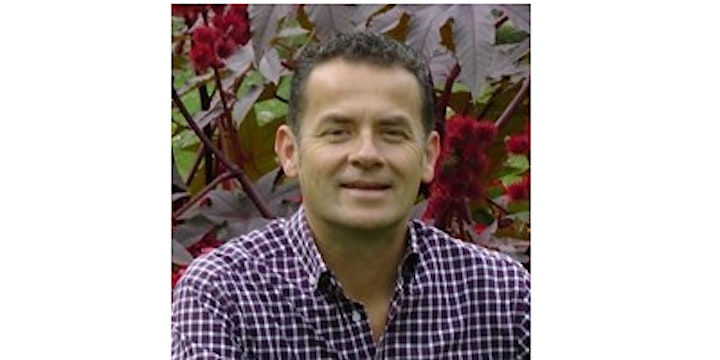 Prof. Christian van Nieuwerburgh is an executive coach and academic with emphasis on intercultural coaching and "coaching in education". He is the best-selling author of "An Introduction to Coaching Skills: A Practical Guide" (now in its third edition), and the editor of "Coaching in Education: Getting Better Results for Students, Educators and Parents", which is now one of the key textbooks in the field. His other books include "Coaching in Professional Contexts", "The Principles and Practice of Coaching in Islamic Culture" (with Raja Allaho) and "Advanced Coaching Practice" (with David Love). His forthcoming book (with Paige Williams) is called "From Surviving to Thriving: A Student's Guide to Feeling and Doing Well at University"
He is Global Director of Growth Coaching International, Professor of Coaching and Positive Psychology at the Centre for Positive Psychology and Health of Royal College of Surgeons in Ireland and Honorary Fellow at the Centre for Wellbeing Science of the University of Melbourne (Australia). Seen as an international authority in the field of coaching, he is a renowned public speaker at conferences in the US, the UK, Europe, Australia and the Middle East. He regularly presents on the topics of motivation, engagement and leadership. Christian is particularly passionate about the power of coaching in educational settings. Through Growth Coaching International, Christian works with a global team that delivers training, consultancy, coaching and professional development programmes to schools, colleges and universities. He is motivated by the idea of creating coaching cultures for learning which allow students to pursue their aspirations with confidence. Christian defines himself as an engaged academic practitioner, committed to the useful interplay of theory, research and practice. Students, delegates, clients and peers describe him as an inspirational educator and empowering coach.
Organised By
Joe Murphy, Academic Success Coach, AnSEO – The Student Engagement Office, MTU Cork
Dr Marian Hurley, Academic Success Coach, AnSEO – The Student Engagement Office, MTU Cork