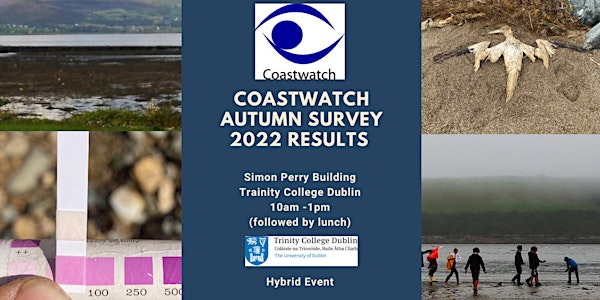 Coastwatch Autumn Survey 2022 Results
You are invited to the 1st Results of the Coastwatch Autumn Survey 2022 from 10am to 1pm, followed by Xmas lunch.
Date and time
Mon, 5 Dec 2022 10:00 - 13:00 GMT
Location
Simon Perry Building Trinity College College Green Dublin Ireland
About this event
We are delighted to invite you to the Launch of the headline Coastwatch Autumn Survey 2022 Results which will include presentations of Coastwatcher findings, with workshops and lunch.
Official launch by Eanna Ni Lahmna, Ecologist, Author and broadcaster.
We would love to welcome you in person, the room is set up for a hybrid event, so you also have the opportunity to participate remotely.
Demo Room, Simon Perry Building, Trinity College Dublin
The event will include a general overview from the data as well as noteworthy results. There will be a special focus on the following:
Workshop session Themes:
(i)Biodiversity: Bird Flu findings and actions to support coastal birds
ii) Tackling Water quality issues in Shellfish waters and Natura 2000 sites
(iii) Seagrass update
Note re Costs:
This is a free event for all Coastwatchers 2022 as well as speakers and chairs. Others pay at entrance €10 for the event and €15 for lunch.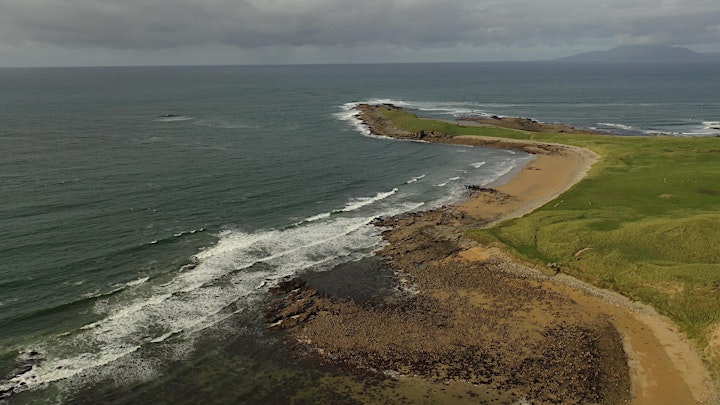 Acknowledgements: We thank the Marine unit DHLGH for their support of the Coastwatch survey and this results event. Thank you to Trinity College Dublin for hosting the event,
Thank you to all our surveyors and regional coordinators for their huge contributions as well as speakers, chairs and support team for generously giving time and skill.
About the organiser
Coastwatch Europe (CWE) is an international network of environmental groups, universities and other educational institutions, who in turn work with local groups and individuals around the coast of Europe. CWE primarily protects wetlands by raising public awareness of their value and demonstrating practical ways to save them. Coastwatch Europe has participated at hundreds of events since the 1980's and published several dozen articles, scientific papers and books.
The goal of CWE is the protection and sustainable use of coastal resources, and informed public participation in environmental planning and management. Coastwatch Europe is driven by public participation.