All proceeds are going to 'The Shine Centre fror Autism'
About this event
Comedian, poet and mentalist. Cornelius Patrick O' Sullivan has a unique style, fusing anicdoital comedy with poetry, then abruptly changing style with bizare impressions, whilst constantly lacing his set with quirky one line observations. "Incredibly funny and engaging" - The Examiner
Daniel Lukas is the self-proclaimed "only funny German". Despite this genetic disadvantage, he's decided to try his hand at stand-up comedy. With a confident and energetic stage persona he likes to ramble about the struggles of being an immigrant, his personal life and the complicated relationship between German and Irish culture.
Nghia Mai began doing Stand-Up in Scotland in 2014 and has performed his unique brand of racially-infused humour on numerous stages across the world, entertaining audiences with his colourful stories. In September 2019, he moved to Dublin, Ireland, to pursue further studies and is now immersing himself in the local comedy scene. In his short time in Ireland, Nghia has already made it to the finals of a number of competitions including the Cherry Comedy Breakout Act of the Year and Dublin's Next Top Comic. He recently performed at the 2021 Cat Laughs Summer Series
Donal McSweeney is a storytelling style comic with a great range of characters.
Ray Murphy is Ballincollig's positive pessimist! Foundation maths never looked more emo.
Lesly Martinez is a latin american comedian, based in Ireland with the last 8 years. In her sexy accent, she brings her experiences, struggles and observations on Irish life to the stage
Doors 7PM. Covid Cert is required.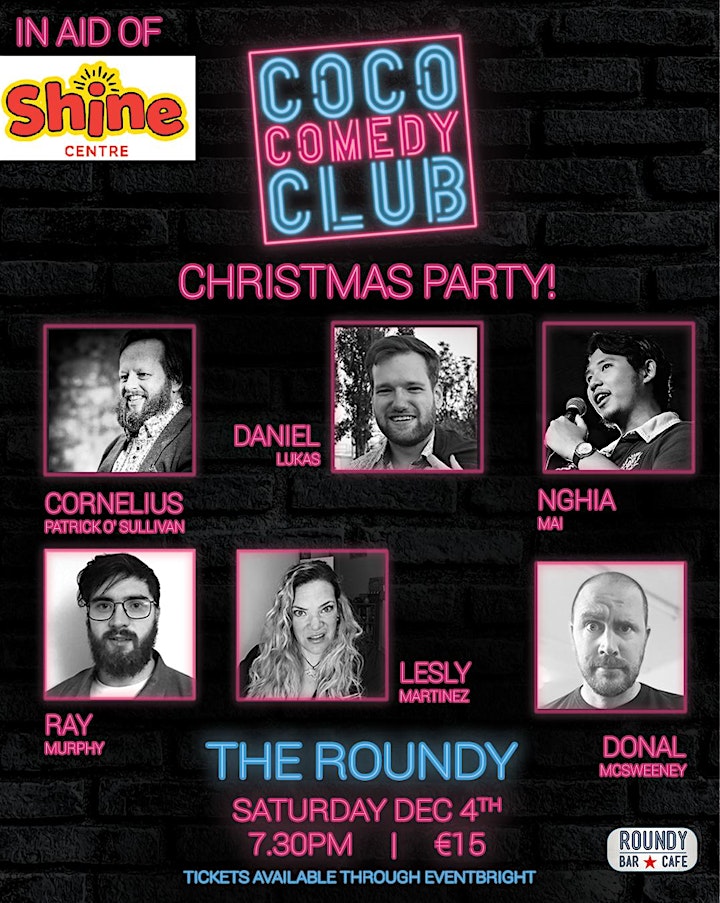 Organiser of CoCo Comedy Club - Christmas Party!