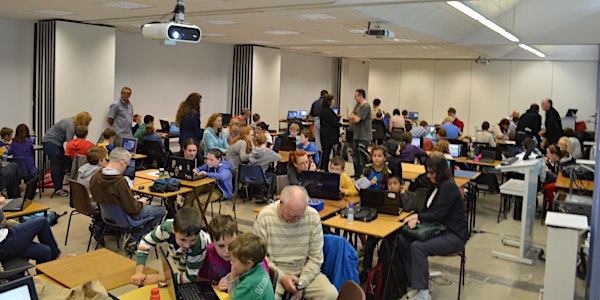 CoderDojo Limerick 8th October 2022 with a new time slot.
Youth coding returning at a new earlier time slot for October 2022 with mentors and you no longer need your own laptop :-)
When and where
Location
TUS Moylish Campus (Formerly LIT) Moylish V94 EC5T Limerick Ireland
About this event
Welcome,
We will be returning to our Monthly sessions, next Saturday 8th October at the eariler time of 11am.
We will have groups covering Scratch, AI using Python and Godot Engine, as always we will help kids with their own Projects. Each group will have limited tickets so please book early as unlike before we will not be adding more.
************************
We now have access to the onsite computer labs so a laptop is no longer needed, just come along and we will set you up on a computer.
************************
As always a parent/gaurdian will need to stay close for kids under 13 however not even a parent will be allowed to enter without a ticket so please book now to avoid disappointment.
What you need to bring:
A parent! (Very important if you are under 13).
Very Important:
------------------------------------------------------------------------------------
To satisfy insurance, health and safety, and child protection requirements, it is necessary that members under 13 have a parent or a named responsible adult present for the full duration of their stay.  So that we can know who is responsible for each young member, we require a supervisor reserve a ticket with the name of the person staying with the young member.
Members will not be allowed into rooms until 10.45pm and we ask that you be there on time so that we can minimise the disruption caused by members arriving late. (Please let us know by email in advance if you will be late).
Tidy up will start at 1pm and while we encourage parents to be there at this time, we ask that you do not take away any members until all the rooms are back to the way they were when we arrived. TUS are now using the rooms every Monday morning so this is important. 
------------------------------------------------------------------------------------
Contact details:
Email: limerick@coderdojo.com
Twitter: @coderdojolim