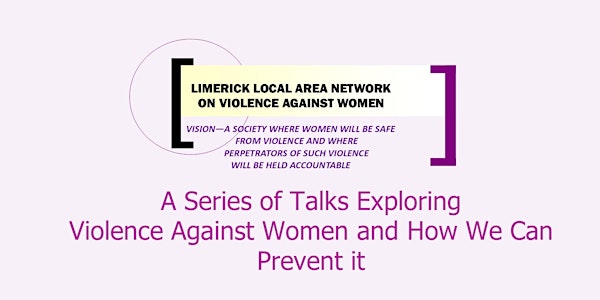 Coercive control, Sexual Harassment & Keeping Women and Girls Safe
A Series of talks on coercive control, sexual harassment and keeping women and girls safe.
About this event
Limerick Local Area Network on Violence Against Women is pleased to present: Coercive Control, Sexual Harassment and Keeping Women and Girls Safe.
This online event takes place on Tuesday, June 22nd, 2pm - 4pm.
Guest Speakers Include:
Luke Hart - Domestic Abuse Advocate - The insidious nature of coercive control.
Dr. Michelle Walsh - Rape Crisis Network Ireland - Launch of Report: An exploration of sexual harassment among Irish adolescents: Experience and understanding.
Mary McDermott – CEO Safe Ireland - Coercive Control and A Woman's Journey as they move from entrapment to safety and freedom.
Inspector Marion Cusack - An Garda Síochána - What a woman can expect if she contacts the Gardaí.