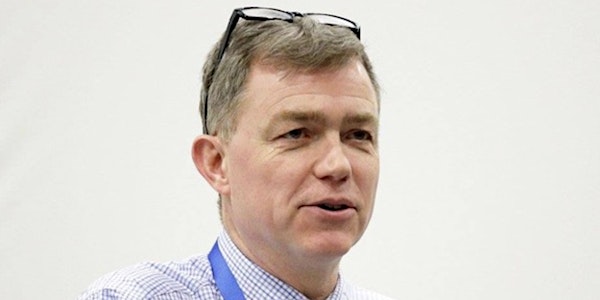 Colin Doherty Inaugural Lecture
Inaugural Lecture of Professor Colin Doherty: A Dark Continent?
When and where
Location
Trinity Biomedical Sciences Institute 152-160 Pearse Street D02 R590 Dublin Ireland
About this event
Professor Colin Doherty is the Head of School of Medicine in Trinity College Dublin. Colin holds the Ellen Mayston Bates Chair in Epileptology at Trinity. He is a Consultant Neurologist and Director of the Epilepsy Service at St James's Hospital, Dublin. His undergraduate degree was awarded by UCD (1991) and he trained in Medicine and Neurology at St Vincent's and Beaumont Hospitals an later at the Partners Neurology Residency Programme at Harvard Medical School, Boston (Brigham and Women's Hospital and Massachusetts General Hospital) where he was Chief Resident in my final year (1998-2001). He has completed Fellowships in Epilepsy and Cognition at MGH (2001-2003). He has published widely in the areas of brain imaging in epilepsy, the genetics of epilepsy, functional imaging of language, dementia, clinical neurology and epileptology and traumatic brain injury. In the last few years he has become interested in the challenges of population health, health services research and care delivery in epilepsy. He published recently on national issues regarding epilepsy care including; evidence based pathways, national mortality estimates, hospital access restrictions and national prescribing rates. He has 105 peer reviewed publications, 4211 citations, a H-index of 35 and i10index of 78. Between co-applicant, Co-PI and PI grant applications he has been collaboratively responsible for >7 Million Eu in funding I has authored chapters in three textbooks and co-edited one. He was a member of the Irish government's expert group on resource allocation in the health sector (2011). He was a member of the National Clinical Effectiveness Committee in Ireland since its inception in 2011 to 2015 and represented the RCPI on The Irish Patient Safety Steering Group 2012-2016. He was a board member of the Health Research Board (2010-15) and is a founder member and Medical Director of Epilepsy Research Ireland (ERI). He is the Irish representative to the International League Against Epilepsy (ILAE) committee for the Global Campaign Against Epilepsy and a co-applicant on a large EU funded study on the epidemiology of epilepsy in Europe (ESBASE). He was National Clinical Lead for the Epilepsy Care Programme in Ireland from 2010-2018, with a charge to develop epilepsy services nationally to improve quality of care and access for patients. He has recently moved from that role to take up a specific remit around Women's Health in Epilepsy with the evolution of the Valproate in Pregnancy story. he states that he has learned a lot in the last five years about the urgent issue of healthcare reform and see medical education, both postgraduate and undergraduate in urgent need of firstly protection of its core mission and values but also innovation and development to meet the challenges of 21st century medical care: Amongst the challenges are underpinning the funding of basic, translation and clinical research; Teamwork and its effect of professionalism, the role of the patient in the design and delivery of healthcare, and the rise of technology.