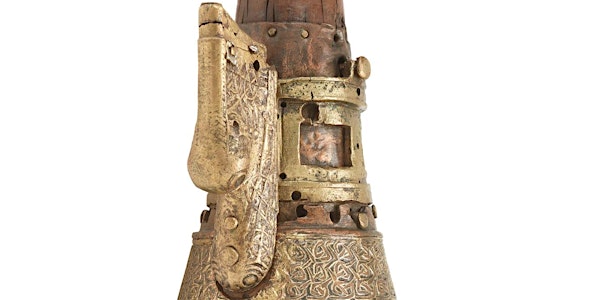 Colmcille 1500: Columba's crosier: power and devotion in Medieval Ireland
This talk is the second of a series of three lectures of the NMI - Archaeology Autumn Online Lecture Series 2021
About this event
Autumn Online Lecture Series 2021, The Hand-bells, Books and Crosiers Associated with St Columba - Colmcille 1500 Lecture Series: St Columba's crosier: power and devotion in medieval Ireland
While more famous for its illuminated manuscript and high cross, an early medieval crosier also survives from this important Columban monastery. It was preserved for generations by the Mac Geoghegan family, remaining in their keepership until the nineteenth century. The crosier may originally date from the ninth century but was significantly refurbished in the early twelfth. Early Irish crosiers were originally held by the abbots of monasteries as symbols of authority and were passed on to successive holders of the office. As the abbot of Durrow was a successor of St Columba, the crosier was associated with the saint and over time was regarded as a relic. This lecture will explore how St Columba's crosier was viewed and used during the medieval and post-medieval periods. It will also examine the context of its refurbishment in the early twelfth century, as well as looking at other evidence for crosiers associated with the saint from Kells, Co. Meath, and Dunkeld in Scotland.  
Dr Griffin Murray is a Lecturer in Archaeology at University College Cork. He is author of The Cross of Cong: A Masterpiece of Medieval Irish Art (2014) and is a specialist in Irish medieval church metalwork.  
The series is part of a programme being run by NMI for Colmcille 1500. This programme includes a new exhibition about St Colmcille, which will open in December 2021 at NMI - Archaeology.
This is a closed YouTube live event with this pre-recorded lecture and a live Q&A. Please note the entire event will be recorded and posted online at a later stage. Booked attendees will receive a link closer to the event to view the lecture on YouTube. Please use the 'chat' feature on YouTube to ask any questions about the lecture and these will be answered live at the end of the talk. If you would like to post a question, please be aware, you will need to have a YouTube account.
For more information, please see museum.ie or email educationarch@museum.ie