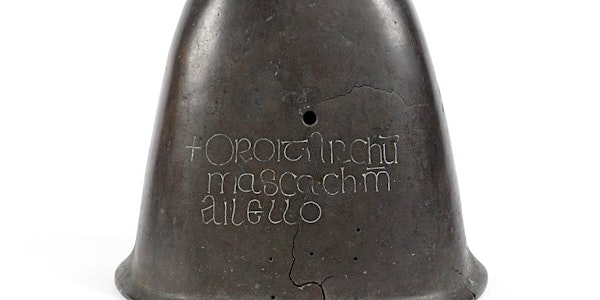 Colmcille 1500 Lecture Series: The Bells of the Irish Saints
This talk is the first of a series of three lectures of the NMI - Archaeology Autumn Online Lecture Series 2021
About this event
Autumn Online Lecture Series 2021, The Hand-bells, Books and Crosiers Associated with St Columba - Colmcille1500: The Bells of the Irish Saints by Cormac Bourke 
This online lecture by Cormac Bourke looks at the archaeology of Irish hand-bells, their original function, and their place in recent tradition. The talk is part of the Colmcille1500 events and will deal in particular with bells associated with Colmcille (Columba) and with his famous biographer Adomnán (Eunan). The story ranges from Ireland to Iona and the Highlands of Scotland.
Cormac Bourke was a curator in the Ulster Museum for 26 years. He specialises in the study of early insular Christianity and has published widely on medieval metalwork and on the archaeology of saints and their relics. His book, The Early Medieval Hand-bells of Ireland and Britain, was published by the National Museum of Ireland, in association with Wordwell, in 2020.
This talk is part of the NMI-Archaeology Autumn Online Lecture Series 2021, The Hand-bells, Books and Crosiers Associated with St Columba - Colmcille1500
This online series of talks explores medieval objects associated with St Columba. Starting in October with a talk by Cormac Burke, the first talk will explore the functions and use of Irish hand-bells, including those associated with Colmcille. This talk will be followed in November by talk by Dr Paul Mullarkey, NMI, which will explore book shrines, with a focus on the Shrine of the Cathach. The last talk in December by Dr Griffin Murray, UCC, will discuss crosiers associated with Colmcille (Columba), and concentrate on discussing St Columba's crosier from Durrow, Co. Offaly.
The series is part of a programme being run by NMI for Colmcille1500. This programme includes a new exhibition about St Colmcille, which will open in December 2021 at NMI - Archaeology.
This is a closed YouTube live event with this pre-recorded lecture and a live Q&A. Please note the entire event will be recorded and posted online at a later stage. Booked attendees will receive a link closer to the event to view the lecture on YouTube. Please use the 'chat' feature on YouTube to ask any questions about the lecture and these will be answered live at the end of the talk. If you would like to post a question, please be aware, you will need to have a YouTube account.
For more information, please see museum.ie or email educationarch@museum.ie