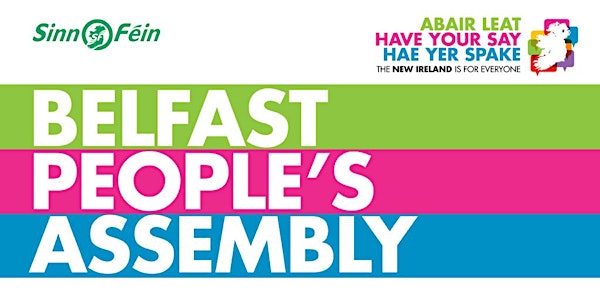 Commission on the Future of Ireland - Belfast People's Assembly
Commission on the Future of Ireland - Belfast People's Assembly The New Ireland is for Everyone - Have your Say
When and where
Location
Waterfront Hall 2 Lanyon Place Belfast BT1 3WH United Kingdom
About this event
The Commission on the Future of Ireland is an ambitious public, sectoral and private consultation on the future of Ireland.
It will accept submissions and hold both public People's Assemblies and private engagements. Contributions are sought from all sections of society on this island and beyond.
'The New Ireland is for Everyone – Have Your Say', are the main pillars of this Commission.
The inaugural People's Assembly will take place in Belfast's Waterfront Studio on 12th October 7.00pm - 9.00pm.
There will also be Women's Assemblies, Youth Assemblies and Assemblies in Gaeltacht areas
To make a submission to the Commission, please visit www.sinnfein.ie
The Commission also seeks to engage with the protestant, loyalist, and unionist section of our people and those with different visions of the future
Local voices are crucially important to this conversation
Please come along to the Waterfront and have your say on the future of Ireland