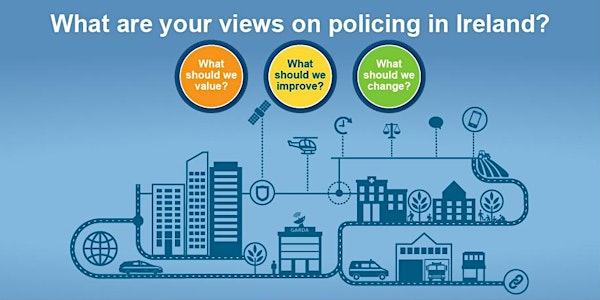 Commission on the Future of Policing: Wood Quay public meeting
Location
Wood Quay Venue
Dublin City Council Civic Offices
Wood Quay
Dublin
Ireland
Description
The Commission on the Future of Policing in Ireland was established by Government in May 2017 to develop a blueprint for policing in Ireland into the future. The Commission is tasked with undertaking an independent, comprehensive examination of all aspects of policing in Ireland, including all functions currently carried out by An Garda Síochána, as well as the full range of oversight bodies.
A fundamental part of our work is to ensure that policing operates within a clear framework of governance and accountability to the law and the community that is supported by coherent structures. The full Terms of Reference are available to view on our website here.
Consultation is central to informing the Commission's work. The Commission is organising a series of regional public events across Ireland. Through that consultation process, the Commission will be listening to as wide a range of views as possible on the future of policing.
The public meeting to be held at Wood Quay is an important opportunity for the Commission to listen to views on the future of policing in Ireland.
The format will be town-hall style and will be moderated by Professor Mary Rogan, of Trinity College Dublin, who is an expert in human rights and penal policy making, is on the Board of the Victims Rights Alliance and is Chair of the Government's Implementation Oversight Group on reforms to penal policy.
At this event, the Commission is particularly interested in hearing from organisations which are based in Dublin and work with vulnerable groups or represent community interests, including the business community.
In addition to welcoming the perspectives of these organisations - as well as members of the public - we are inviting organisations directly involved in policing.
Registration will be open from 6.00 for tea/coffee, and the event will begin at 6.30, finishing at 8.15pm.
We encourage everyone to add their voice to the national conversation on the future of policing in Ireland by attending this important public meeting.