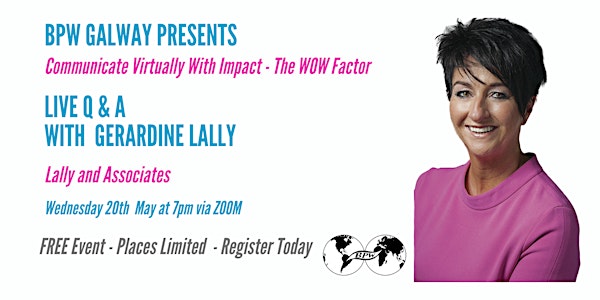 Communicate Virtually With Impact, Embracing the WOW Factor
Join us for an insightful discussion with Gerardine Lally on how to communicate effectively online.
About this event
Join the fourth webinar in our BPW Series with guest speaker Gerardine Lally of Lally & Associates.
In this live discussion and Q & A, Ger will lead the way in showing us how to be a successful communicator & presenter on virtual platforms.
As the world pivots and continues to embrace online meetings, presentations and discussions, the ability to effectively communicate with and present to a virtual audience is a skill that many of us could benefit from embracing and polishing.
Ger will bring attendees through some key tips to make the most of this virtual world of meetings, showing how to embrace the wow factor and deliver a punch with presentations.
From the discussion you can expect to find out the following:
What makes an impactful communicator?
Avoid common blunders
How to engage your listeners and make your message relevant
The power of a story
Key skills for Virtual Meetings - Do's & Don'ts
Image, Appearance & Background tips
This is an ideal opportunity to progress your skills and ideal training for anyone who:
Presents at Virtual meetings
Leads Teams through working from home (WFH)
Media interviews re business pivot update
Career development / Interviews
This event is free to attend, open to all and will take place over ZOOM*. The link to join the webinar will be circulated in advance of the 7pm start time to all registered attendees. The event is limited to 100 and is expected to be filled quickly.
About the Speaker - Gerardine Lally
Gerardine Lally specialise in communications that includes everything from training, personal development, to stakeholder engagement, special projects, tenders and bids. Gerardine provides communications solutions to inspire great performance. She encourages people at every level of management to implement the most effective skills of communication into their professional life and that of their organisation.Gerardine has consulted and conducted training seminars and workshops across the world for hundreds of high-profile clients from professional services, medical device, pharmaceutical, manufacturers, technology firms and telcos.
*Access to the session will only be available to those who have pre registered to attend.