Computational Thinking Workshop, Tue 30th Nov 2021, Christmas tasks
An online computational thinking workshop for primary and secondary school teachers in Ireland.
About this event
This computational thinking workshop is intended for primary and secondary school teachers in Ireland. Participants do not need to have any prior knowledge of computer science to attend. The materials used in this workshop originate from internationally-recognised Bebras tasks that can be used without computers in the classroom.
We will walk through six Christmas-themed computational thinking Bebras-style tasks. There will also be time to discuss, ask questions, and share ideas with other teachers and the PACT team about how to use these tasks in a classroom setting. You will get PDFs of the six tasks to use in your classroom.
The workshop includes: 15 min introduction to computational thinking (CT) for teachers, a new Christmas themed task starting every 15 minutes, and a final 15 minutes of conclusions and discussion. With this structure it is possible to attend only part of the workshop if you are not able to attend for the full two hours.
This workshop is organised by the PACT team, Department of Computer Science, Maynooth University, with financial support from Science Foundation Ireland. Our teaching materials are adapted from our involvement with the International Bebras CT Challenge, through the Irish Computer Society's/ICS's National Bebras Challenge. See more information on our website https://pact.cs.nuim.ie.
See below an example of one of our Christmas-themed CT tasks from last year.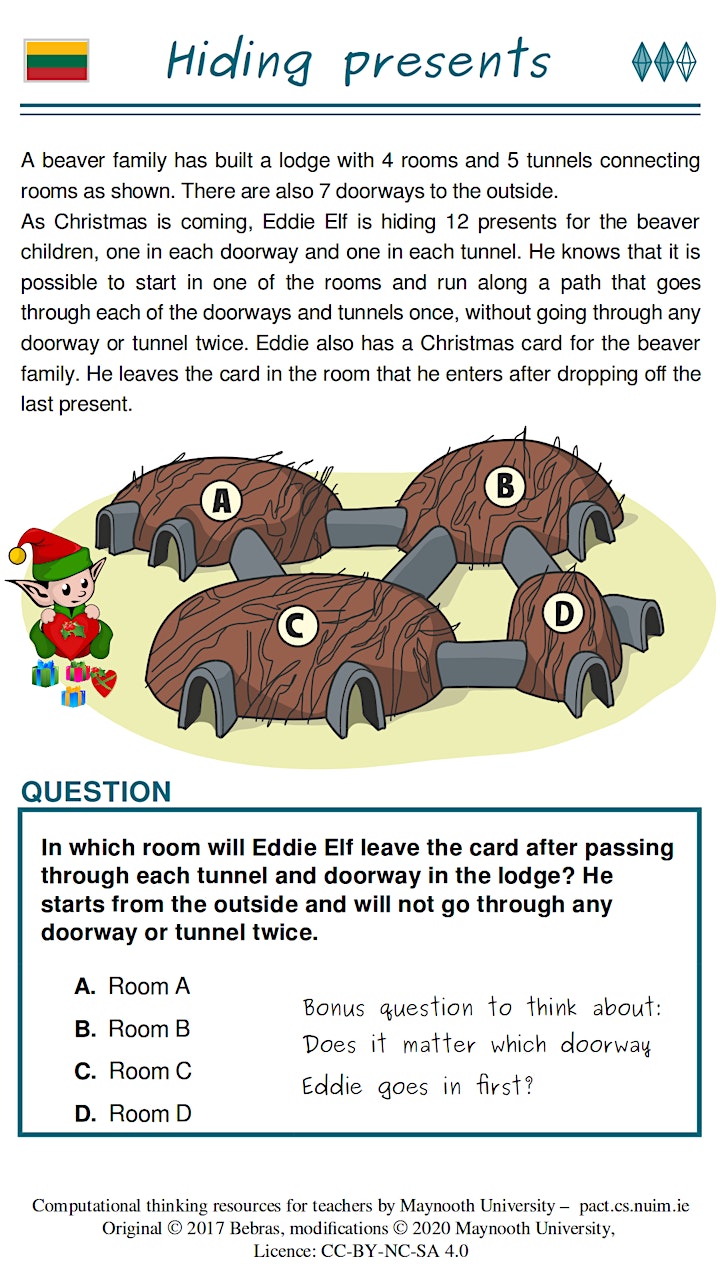 Organiser of Computational Thinking Workshop, Tue 30th Nov 2021, Christmas tasks