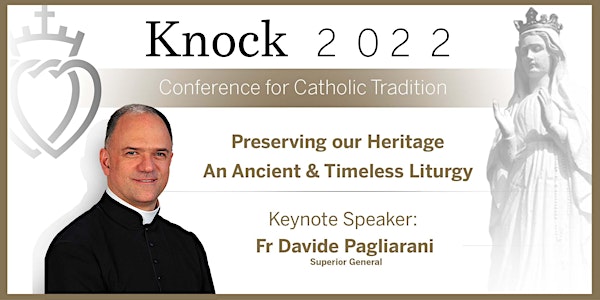 Conference for Catholic Tradition in Knock 2022
After a two year hiatus, the Knock conference is back! Fr Davide Pagliarini, superior general of the SSPX, will give the keynote address.
When and where
Location
The International R329 Knock Ireland
About this event
What's it about?
Just when the old liturgy seemed to be firmly re-establishing itself throughout the world, the motu proprio Traditiones Custodes was released on 16 July 2021. The purpose of this newest document was clearly to limit the celebration of the ancient Roman rite.
In light of this most recent attack on the Mass, we are hosting a series of conferences discussing the increasingly importance of the old Mass and liturgy in today's world.
Adults 18 and older must register to attend.
Childminding service available at an additional cost here. If you plan on leaving your children without supervision at any point in the day you MUST register your children.
Lodging
There are a few rooms available at a discount price for families which can be booked online. Otherwise, lodging must be booked independently of us.
Meals
Breakfast on Saturday and brunch on Sunday are the only two meals provided. For all other meals you must make your own arrangements. St John's Rest Centre will be open during the Saturday lunch break and you're welcome to eat a picnic there.
Full Schedule
Friday 9 September
19.00 Traditional Irish music & social – The International
21.20 Gather in front of parish church (St John the Baptist)
21.30 Candlelight Rosary Procession
Saturday 10 September
9.00 Low Mass – Bl. Sacrament Chapel
9.45 Breakfast (provided) – The International
10.30 Conference begins – The International
10.35 Fr Robert Brucciani: Opening Address
10.45 Fr Davide Pagliarani: The Mass, Focal Point of Society
11.40 Fr Patrick Abbet: True Liturgical Participation
12.30 Break for lunch (BYO)
14.10 Sr Mary Leo: Teaching the Liturgy with Catechism
15.15 Mr Grattan Keating: Celtic Art16.00 Break for tea
16.40 Fr Ailbhe O'Reilly: Early Celtic Liturgical Practices
17.35 Fr Patrick Kimball: Final Word
17.45 Break for supper (BYO)
19.00 Rosary – Bl. Sacrament Chapel
19.30 Trivia Night – The International
Sunday 11 September
8.30 Solemn High Mass followed by pilgrimage – Bl. Sac. Chapel
12.00 Refreshments & meet with speakers – The International