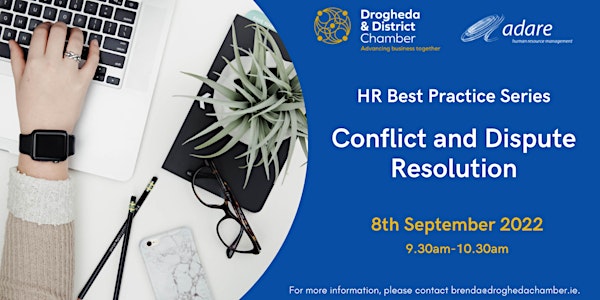 Conflict & Dispute Resolution
HR Best Practice Series - Conflict & Dispute Resolution
About this event
Drogheda & District Chamber are proud to host this event, in collaboration with their Strategic HR Partners, Adare Human Resource Management who are the leading experts in Employment Law, Industrial Relations and best practice Human Resource Management.
* Upon registration, participant details will be issued to Adare Human Resource Management.
What is this webinar about?Conflict is on the rise again as employers seek to bring in new working practices, the return to workplaces has adopted a stop start pattern, employee turnover is high and frustrations within teams are building. The skill of conflict resolution at the point of early intervention is critical to manage employee difficulties. This webinar will guide employers in the practical steps to take when a complaint has been brought to their attention, including what not to do.
Join HR, Employment Law and Health and Safety experts as they discuss this topic in detail exploring practical considerations, answer key questions and provide guidance for businesses on what they need to do and what they should consider in this area.
Why you should join this webinar. We will be discussing:
Overview of the legally required policies that should be in place in all organisations
Examination of the key policies required by the Workplace Relations Commission (WRC) Inspectors – grievance, anti-bullying, harassment, disciplinary
Importance of using informal processes and early intervention in the right way
The role of Mediation
The Risk of Constructive Dismissal
Examination of relevant case law and possible costs for Employers
Avoiding the pitfalls when managing conflict and dispute processes
Managing appeals
Attendees will learn how to tackle scenarios from day one and how best to apply organisational policies of anti-bullying, harassment, grievance and disciplinary. This will enable them to proactively identify issues that may evolve into conflict and intervene to manage the scenario towards early resolution, limiting costs for the Organisation.
This will be an interactive session with questions encouraged from attendees.
Who should attend:
Business Owners, Managers and HR Professionals and those tasked with the responsibility for managing change within their organisation.
Adare Human Resource Management work to support Drogheda & District Chamber members in all aspects of effective human resource management. Please contact Michelle McDonagh, Chamber Partner Manager to enquire about available services adarechambers@adarehrm.ie | www.adarehrm.ie.