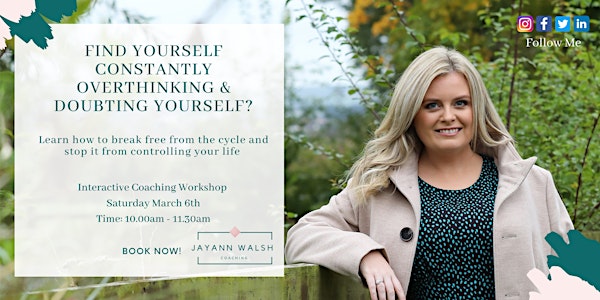 Constantly Overthinking? How to stop it from controlling your life!
Find yourself constantly overthinking & doubting yourself? Break free from the cycle using coaching techniques learned in this workshop
About this event
Do you ever wish you could turn your mind off? To turn it off from the constant thoughts (mainly negative and unhelpful) that swirl around your head? Doubts, feelings of not being good enough, needless worries playing on a loop?
It's exhausting, draining and can have a huge impact on how you behave and what you do in your everyday life.
I like many people struggled with this for many years until I learned the coaching tools and strategies I'm going to share with you in this workshop that quite literally changed my life.
If you feel the way I've described and want to do something about it, this workshop is for you. Not only will it make you aware of the triggering thoughts that affect you, it will also teach you practical and easy to implement techniques to stop overthinking and simply get on with your life.
In this workshop we will cover:
Common thinking traps & the importance of being aware of them
Which thinking trap you fall into
How to activate your incredibly important inner thought processor system
3 effective and easy to use coaching techniques to combat overthinking and self doubt
Q&A - the more interactive the better so feel free to ask questions!
Feedback from Clients
"For anyone who is considering working with Jayann...do it! Jayann is an incredible person and a greatly experienced coach. Jayann coaching me through one issue in my life that was really getting me down. I have now overcome that issue and I feel unstoppable."
"My decision to start my coaching sessions with her was one of the best decision I made in 2020 and the best possible investment in myself. Jayann helped me to battle self-doubt, gain clarity, about my goals and the way to achieve them."