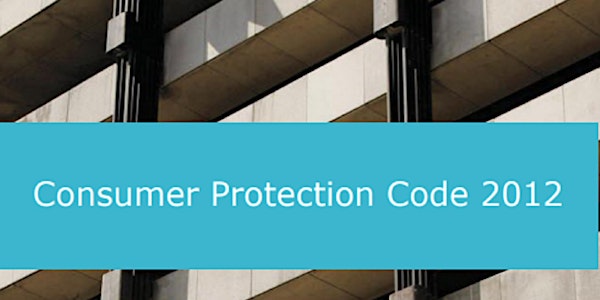 Consumer Protection Code
On the 1st of January 2012 the revised Consumer Protection Code (the Code) came into effect
Refund Policy
Refunds up to 7 days before event
About this event
On the 1st of January 2012 the revised Consumer Protection Code (the Code) came into effect which sets out the requirements that regulated entities must comply with when dealing with consumers.
A number of addendum's have been made to the code since then to keep up with the changes with respect to new regulated sectors and changes in European legislation (MiFID II) and Central Bank consultations (e.g. CP116).
This half day course will provide attendees with a full understanding of the code and how it can be implemented within their own firms.
Topics:
General Principles & Governance
General Requirements
Restrictions
Conflicts of Interest
Contact with Customers
Premium Handling
Product producer responsibilities
Provision of Information
Knowing the customer and suitability requirements
Post-sale information
Rebates and Claims processing
Arrears
Advertising
Errors and Complaints resolution
Records and Compliance
Suitable for:
Staff and management working in customer facing, compliance, product development, premium handling, claims management and marketing roles within Firms that deal with customers in the state and consumers that fall within the definition of consumer.
Relevant Firms: Credit institutions, insurance undertakings, Investment business firms, investment intermediaries, insurance intermediaries, mortgage intermediaries, payment institutions, electronic money institutions, debt management firms and credit servicers.
CPD: 
Accredited with the Institute of Bankers, Insurance Institute of Ireland and the LIA. Approval for other bodies can be obtained on request.
A CPD certificate will be issued along with a PDF version of the presentation upon course completion.
Cost: €295 per person
For more information please don't hesitate to contact us at 
+353 (0)1  539 4884.
Full RegSol training timetable HERE