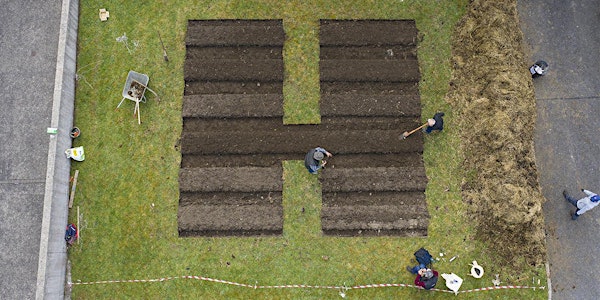 Conversation: Excursions toward Some Dangerous Unknown - Future Farming
Conversation: Excursions toward Some Dangerous Unknown - Future Farming, with artists Jane Locke and Deirdre O'Mahony
When and where
Location
RHA Gallery (Royal Hibernian Academy) 15 Ely Place D02 A213 Dublin Ireland
About this event
The task before us is to build an agriculture that is resilient to human folly, an agriculture that rewards wisdom and patience, an agriculture in which the land remains silent but not silent in those excursions toward some dangerous unknown, dangerous because we have become to enamoured with our own cleverness and enterprise. Knowledge is not value free. The purpose of education is the transmission of value.
Wes Jackson New Roots for Agriculture
At a time of fuel shortages, supply chain issues and a heightened public awareness of climate change, The Good Life (BBC, 1975-1978) was a highly popular British sitcom following Tom and Barbara's comedic attempts to turn their suburban garden into a self-sufficient farm. The series epitomised a feeling of nostalgia for an imagined past and the lure of the rural idyll.
Finding history repeating itself, whose task is it now to move towards a more sustainable food production model? Farmers, consumers, government agencies, artists? How might art and artists ask these difficult questions on the future of farming?
Jane Locke and Deirdre O'Mahony will discuss these and other questions in a public conversation at the RHA on March 2, 2022.
This conversation takes place in response to the group exhibiton, A Growing Enquiry: Art, Agriculture, and Reconciling Values (17 February - 30 April), featuring Jane Locke among other artists, and Deirdre O'Mahony's reading room FEEDER (17 February - 26 March) at RHA Gallery.
If you require any further information or have any queries, please contact the Learning & Public Engagement Curator, Róisín Bohan, by emailing engagement@rhagallery.ie or tel: 01 661 2558.
Bios.
Jane Locke (b. 1980 Dublin) has degrees in Analytical Science (DCU, 2001), Visual Arts Practice (IADT, 2007), a Masters in Fine Art (NCAD, 2014) and over twenty years' experience in the pharmaceutical industry.
Her work often finds itself wondering at the role of institutions in the creation of truth, the dissemination of knowledge and the awarding of credibility. Previous work has explored the fusing of history and fictions to look into the secret lives of post boxes, botanical gardens and graphene (aka the dark molecules).
This current project looks to the future, specifically the future of food production in Ireland through the lens of ConsumerFarmer, a highly successful Irish company established in 2075 that brings farming to the domestic consumer. Peruse the spring 2123 catalogue to order from the range of mini domestic livestock and roof goats, or visit our large in-house biodome to find everything you need to safeguard your family's food supply.
Deirdre O'Mahony studied at Saint Martin's School of Art, London, the Crawford College of Art, Cork, and the University of Brighton, completing a PhD in Fine Art in 2012. Her art practice is informed by a deep interest in rural sustainability, farming, food security and the political ecology of rural places. Current and recent projects and exhibitions include Sustainment Experiments (2021 – 2024, Ireland and Paris); The Plot 1, VISUAL Carlow (2021); The PLOT 11, Gangwon Triennale Korea (2021), Little did they know, EVA Biennale Guest Programme, curated by Merve Elvern; PhotoIreland2021 and POST_(2020) for Saolta Arts/Galway2020.
Recent awards include bursaries and agility awards from the Arts Council of Ireland, the Fire Station Artist Studios Sculpture award (2021) and University College Dublin, Earth Science Institute Residency (2021/22), and is currently the Parity Studios Earth Science Institute artist in residence at University College Dublin. Her work is in the collection of the Arts Council of Ireland and national and international institutions.
Image: Deirdre O'Mahony and the Irish Loy Association, The PLOT, VISUAL Carlow, photograph: Tom Flanagan, 2021