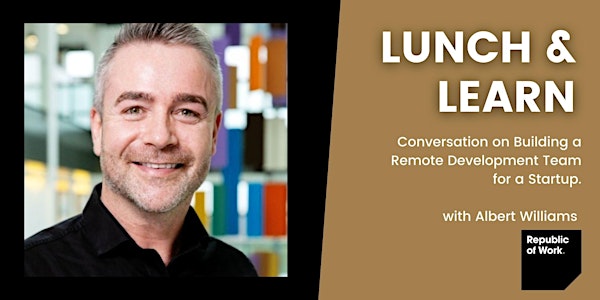 Conversation on Building a Remote Development Team for a Startup
An open conversation on experiences with building a remote development team for a startup.
About this event
Republic of Work are delighted to partner with Albert Williams for Lunch & Learns on Building a Remote Development Team.
Albert has 20+ years experience in the multinational tech industry in both tech and people leadership roles and has recently lead the building of a SaaS business called Perkforce.
Perkforce digitally transforms corporate benefits and lifestyle perks to reduce the workload for people leaders while maximising the Employee Value Proposition and increasing employee engagement, retention and wellbeing.
Startups decide to have their initial development done remotely for a number of reasons.
To optimise operation costs, to be able to tap into a global talent pool in order to hire specialists, to get a competitive edge as an employer by offering more workplace flexibility to staff, etc.
However, the tenets of a successful development team remain the same.
These include the practicalities of tracking progress and deliverables that incorporate collaboration, trust, and a consideration for the teams wellbeing.
Learning outcomes:
Quick overview of Agile principles and SCRUM framework.
Tools used to track costs, progress and deliverables.
Building a cadence into the development process.
Building trust within a remote team.
Ensuring team collaboration, engagement and wellbeing.