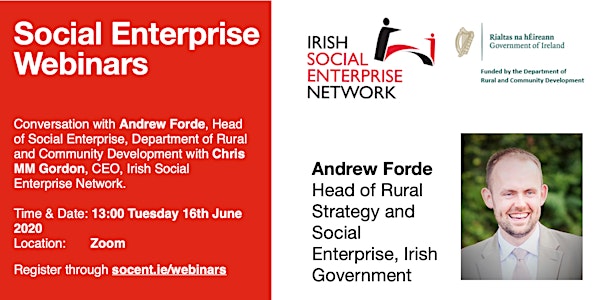 Conversation with Andrew Forde, Head of Social Enterprise DRCD
Conversation with Andrew Forde, Head of Social Enterprise for Irish Government with Chris MM Gordon, CEO, Irish Social Enterprise Network
By Irish Social Enterprise Network
When and where
Date and time
Tue, 16 Jun 2020 05:00 - 06:00 PDT
About this event
The Irish Social Enterprise Network are delivering a series of webinars and community check-ins across Ireland. In the regular series, social enterprises have the chance to learn from each other and to talk about the issues and opportunities in the sector.
In our opening webinar, Andrew Forde, Head of Social Enterprise in the Department of Rural and Community Development, will talk about the sector and what the government are doing in the time of COVID-19. The session will be open and there will be a chance to ask some questions in advance.
If you would like to get access and to this event, please register through Eventbrite. All conversations and webinars and chec-ins are free, however you will need to register. This event is brought to you with support from the Department of Rural and Community Development.
You will need Zoom installed on your computer, tablet or phone in order to join in on the conversation. If you have any additional questions, please don't hesitate to contact us info@socent.ie
Biography:
Andrew Forde
Andrew Forde is the Head of Rural Strategy and Social Enterprise for the Irish Government. He has responsibility for the development and implementation of a National Social Enterprise Policy for Ireland (2019 – 2022) which aims at supporting the development of a strong and vibrant social enterprise sector in Ireland. He Chairs the National Social Enterprise Policy Implementation Group and is Ireland's delegate on the European Commission's Expert Group on the Social Economy (GECES). He is also responsible for the development and oversight of national rural development policy.
His professional background is in the field of international human rights law having worked for more than 15 years in the area of human rights and humanitarian affairs in Kosovo, Bosnia and Herzegovina, the Dominican Republic, India and France. From 2015 – 2019, prior to taking up his appointment at the Department of Rural and Community Development, Andrew served on the board of the Irish Council for Civil Liberties (ICCL).
About the organiser
Social Enterprise in Ireland has a new home. We are here to help social enterprises, social entrepreneurs and social innovators in getting their idea off the ground, the supports to grow and the network to change and impact with their social mission.