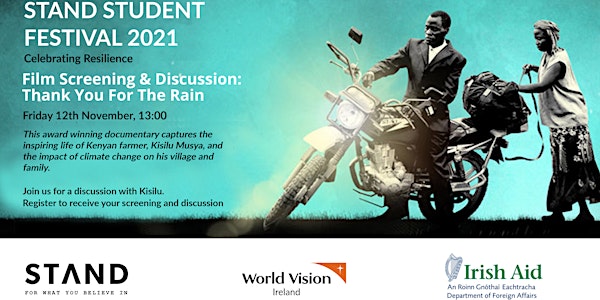 COP26 x STAND Fest: Thank You For The Rain Screening & Discussion
Close out COP26 and #STANDFest21 with a free screening and discussion of Thank You for the Rain ***with the Filmmakers!***
About this event
Five years ago Kisilu Musya, a Kenyan farmer, started to use his camera to capture the life of his family, his village and the damages of climate change. When a violent storm throws him and a Norwegian filmmaker together, we see him transform from a father to community leader to an activist at the UN. This is an inspiring and powerful true story of one rural farmer's extraordinary resilience in rising up against all the odds to demand climate justice on the global stage.
Once you register ,you will be sent a link to watch the film in your own time. You are then invited to join our LIVE discussion with Kisilu himself at 1pm on Friday. This is an incredible opportunity to hear directly from Kisilu, so don't miss it! We welcome an open conversation with the filmmakers, so please bring any and all questions and reflections you have!
---------------------------------------------------------------------------
This event will wrap up the 2021 STAND Student Festival, in partnership with World Vision Ireland, and will bring together students during COP26 to discuss a range of climate justice issues. The Festival is run by students, for students, to raise awareness about the burning issues shaping the world around us.
This year, we're celebrating our collective resilience in the face of global challenges. From the fight for climate justice to social inclusion, gender equality to mental health, this year's #RISEUP Exhibition puts stories of hope, determination, and resilience centre-stage.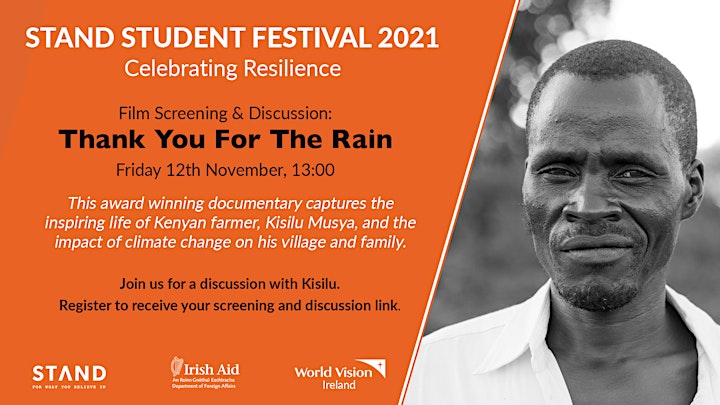 Thank You For The Rain addresses a range of issues linked to climate change, including climate justice, urbanisation, gender equality, education, access to water, climate refugees, and adaptation.
Watch the trailer here: https://thankyoufortherain.com/trailer