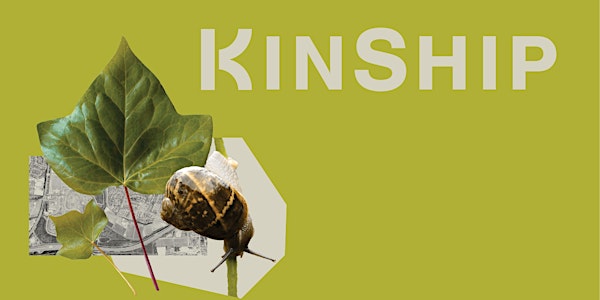 Cork Nature Network Winter Walk at Tramore Valley Park
Guided Nature Walk with John Armstrong
When and where
Location
Tramore Valley Park (Half Moon Lane entrance) South Link Road T12 AE86 Cork Ireland
About this event
Cork Nature Network invites you to a guided nature walk through Tramore Valley Park in partnership with The KinShip Project. The walk will show the wonderful natural beauty that can be found right on our doorsteps.
This guided nature walk is the first event in the 'Becoming Kin' series.
Becoming Kin
Becoming Kin is a Citizen Led Programme, which forms part of the KinShip Project, is devised to invite engagement with communities whose voice and influence is crucial in addressing climate action. Join a host of free outdoor citizen led walks, talks and workshops run on the last Sunday of every month in 2022
KinShip is an art project aimed at developing a sense of connection between the people of Cork and the ecology of Tramore Valley Park. This project is an opportunity to develop a new relationship with the park, modeling 'care' as a civic responsibility to all the inhabitants. This is a space to alter our mindset about the relationship we have with the natural world, to address the legacy of 'throw away' culture and to engage with new modes of managing waste.
See HERE for further details.
COVID-19 INFORMATION BEFORE YOUR VISIT TO THE PARK
All attendees of KinShip Project events will be required to follow up to date health guidance. Some attendees may wish to wear a mask when gathered outdoors as a group.
Please do not attend any KinShip Project event if you:
are experiencing any symptoms of COVID-19 or are feeling unwell.
are awaiting the results of a COVID-19 PCR or antigen test.
are self-isolating or restricting your movements.
have recently been diagnosed with COVID-19. Please consult HSE guidelines regarding testing positive for COVID-19: https://www2.hse.ie/conditions/covid19/testing/positive-result/
are a recent close contact of a person who is a confirmed case of COVID-19. Please consult HSE guidelines regarding close contacts: https://www2.hse.ie/conditions/covid19/contact-tracing/close-contact/
have been advised by a doctor to isolate or cocoon.
How can I get involved in the KinShip Citizen Led Programme?
Anyone who has a special interest in Tramore Valley Park, is invited to propose a 1-2hr walk, talk or workshop for adults.
Below is an example of the kind of activities and subjects suitable for 'Becoming Kin'
Knowledge, skills and know-how on; nature, ecology, climate change, conservation, history, sustainability, community, archeology, folklore, foraging, recycling and repairing, wildlife, bodging, cooking, gardening and growing, coppicing, geology, lepidopterology (butterfly and moth) engineering, rambling, dog training, woodcraft, birdwatching, astronomy, falconry, composting, movement, kite flying, biodiversity, bat walks, tai chi/qigong, flora and fauna, or anything that goes on underground, on the ground or in the air.
Please see the KinShip website for more dates and details and access to an Expressions of Interest Form.
More information about the The KinShip Art Project at Tramore Valley Park is available here.
Privacy Statement
This statement relates specifically to your use of this platform, The KinShip Project Eventbrite. Data submitted to this platform is processed by Eventbrite (the "Processor"), an Irish company. Information you submit is managed in a GDPR compliant environment and is not transferred outside of the E.E.A. (European Economic Area). You can read more in the Eventbrite Privacy Policy.
Any information which you volunteer via this online platform will be treated in accordance with the General Data Protection Regulations (GDPR) and Data Protection Acts, 1988-2018.
Data transferred from the Processor to any Sub-Processors will be treated in accordance with the GDPR and Data Protection Acts, 1988-2018.
The sub processors (collectively the "Sub-Processors") engaged in the use of this solution are:
Cork Nature Network
Cork City Council
MaREI Centre for Energy, Climate & Marine, UCC
Additional Information: The privacy statement for Eventbrite can be accessed here: Eventbrite Privacy Policy | Eventbrite Help Centre
Cork Nature Network - https://corknaturenetwork.ie/privacy-policy/
Cork City Council - Privacy - Cork City Council
MaREI Centre for Energy, Climate & Marine, UCC - https://www.ucc.ie/en/it-policies/policies/privacy/